Seared chicken with roasted grapes
Seared chicken with roasted grapes can turn a simple weeknight into a celebration. Seared chicken breasts are served under a pile of roasted grapes, proving that simple really is best.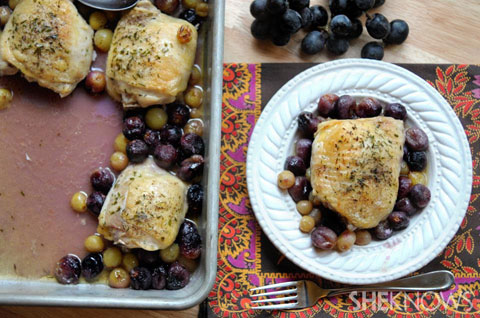 Chicken and roasted grapes
Serves 4
Ingredients:
4 bone-in chicken thighs
4 cups seedless grapes
2 tablespoons olive oil
2 teaspoons salt
1 teaspoon black pepper
1 teaspoon dried tarragon
Directions:
Preheat oven to 400 degrees F.
In a 9 x 13-inch pan, toss the grapes with the olive oil and spread into an even layer.
Place the chicken thighs on top of the grapes and sprinkle the skin evenly with the salt, pepper and tarragon.
Bake for 35 to 45 minutes until the chicken is cooked through and the skin is golden brown and crisp.
Remove from oven, allow to sit for about 5 minutes, and then serve hot.
More roasted chicken favorites
Classic roasted chicken
Almost foolproof roasted chicken
Asian roasted chicken