Buffalo quinoa balls
Buffalo quinoa balls are really a year-round meal that you'll love to serve. Tender balls of quinoa are doused in delicious Buffalo sauce and served with a side of ranch and veggies.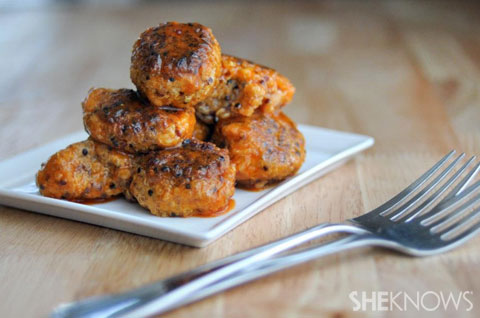 Buffalo quinoa balls
Serves 4
Ingredients:
2-1/2 cups prepared plain quinoa
1 (14 ounce) can cannellini beans, rinsed and drained
1 whole egg
1 cup Buffalo sauce
1/4 cup olive oil
2 tablespoons butter
2 cloves garlic, minced
1 teaspoon salt
1 teaspoon black pepper
Directions:
In a large bowl, thoroughly mash the beans until there are no large chunks left.
Add the prepared quinoa, egg, 1/4 cup of Buffalo sauce, garlic, salt and pepper.
Stir to combine thoroughly, and then spoon into balls that are about 1-1/2 tablespoons apiece.
Heat a medium skillet over medium heat and add the olive oil.
When the oil is hot, add about 8 to 10 balls to the skillet, browning them completely on all sides.
Remove and cook the remaining balls the same way.
When the balls are all done cooking add the remaining Buffalo sauce and the butter to the skillet.
Heat until the butter is melted and stir to combine with the Buffalo sauce.
Add the balls back to the skillet and very gently coat with the Buffalo sauce.
Serve immediately.
More Buffalo favorites
Buffalo chicken tater tot casserole
Sriracha vegan buffalo wings
Buffalo chicken meatballs