Chocolate soy nut cookies
I love this recipe. It's a simple nut-free chocolate cookie made from soy nut butter, a peanut butter alternative based on whole roasted soybeans. It's similar to peanut butter in taste and texture and the best is it's cholesterol free.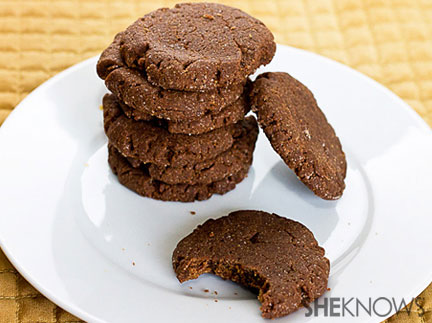 A healthy nut-free cookie made with chocolate soy nut butter, a peanut butter alternative.
Chocolate soy nut cookies
Makes about 20 cookies
Ingredients:
1 cup chocolate soy nut butter
1 cup whole wheat flour
1/4 cup sugar
1 teaspoon vanilla
2 tablespoons cocoa powder
1 large egg
1 tablespoon melted butter
1/4 teaspoon salt
Directions:
Preheat the oven to 350 degrees F.
In a bowl with your hands, knead all of the ingredients together and form a ball of dough and wrap in plastic. Allow to cool in the fridge. In a bowl, mix all the ingredients together.
Form into 1-inch balls and place on a cookie sheet. With the bottom of a glass, press down firmly on cookies. Bake for 7 to 8 minutes and cool on cookie rack.
More healthy recipes
Sweet potatoes with balsamic maple glaze recipe
Harvest glazed carrots recipe
Roasted vegetables recipe