Modern Mom: Party food for kids
When planning a party for your little one, fun food is a must. Check out our very doable ideas here.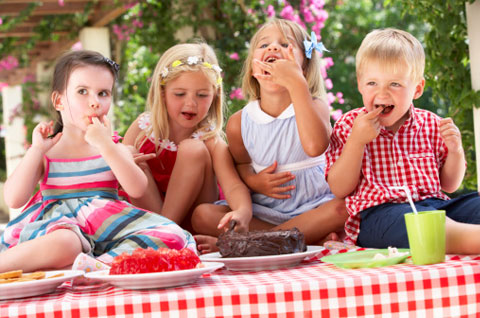 Photo credit: Monkey Business Images Ltd/Monkey Business/360/Getty images
I'm as much of a Pinterest fan as the next mom, but sometimes (read: all the time) the ideas take more time than I have to spend. I love planning parties for my kids, be it a birthday party, summer pool party or holiday party, but I don't always enjoy the immense amount of preparation the food can take. Anyone with me? Here, we're showing you simple party food ideas that kids love to eat and you won't mind making. A win-win for all.
An ice cream bar
Perfect for pool parties or summer birthday parties, kids will go nuts for an ice cream bar. Slice some fruit, pour some candy and sprinkles in a few separate bowls and get out the chocolate and caramel sauces. Keep the ice cream in the freezer until ready to serve. Easy prep, easy clean up, happy mom.
Make your own sandwiches
Lay out some deli meats and cheeses, a few different styles of bread (croissants, Hawaiian rolls and baguettes) and some condiments and you've got your very own sandwich shop. If it's a smaller party, you could even consider making a kid favorite — grilled cheese.
Desserts only
One quality I've passed down to my kids that I'm not particularly proud of is my love of sweets. I realize my kids aren't an exception, as almost anyone you meet under the age of 15 probably loves sugar, so why not throw a birthday party consisting of sweet treats only? Warn the parents beforehand so they can make sure their kids eat healthy the rest of the day.
Our best kid-friendly desserts include:
Go healthy
Another idea is to do the exact opposite of a desserts-only party — serve only healthy treats. Lay out a veggie tray instead of brownies, a fruit salad instead of cupcakes and crackers instead of cookies. You can serve pita bread with hummus, fresh fruit smoothies and ice pops. Purchase low-fat frozen yogurt as a healthier treat instead of a traditional cake. Though that idea may not fly for older kids, younger ones typically love anything cold and refreshing, especially on a hot summer day. Most likely, they won't even notice it's frozen yogurt as opposed to ice cream, either.
A pizza party
Pizza parties are never a failure in the eyes of a child. Whether you choose to make your own or order out, pizza is one of the easiest options when it comes to party food. If you're stressed planning other details of the party or just don't have the desire to cook and bake from scratch, never be afraid to turn to good ole fashioned pizza.
More Modern Mom
Modern Mom: The healthiest fast food kids' meals
Modern Mom: Helping kids with food allergies
Modern Mom: How to raise a non-picky eater