Chili dog french fries
A bed of french fries plus chili dog fixins equals the ultimate finger food.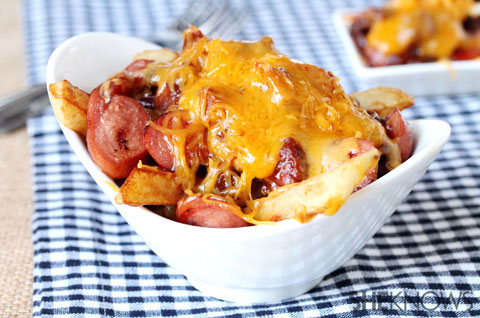 No hot dog buns needed with this chili dog recipe. Buried in all of the cheese and chili goodness is a treasure trove of french fries and slightly browned slices of hot dogs. And the fun part is that it's finger food, even the pieces of hot dog. So don't be shy and dig into this chili dog, fingers and all.
Chili dog french fries recipe
Serves 2
Ingredients:
4 medium-size russet potatoes, peeled
3/4 cup canola oil
4 dashes of salt
2 hot dogs, sliced width-wise
1 cup prepared chili, warmed
1 cup shredded sharp cheddar cheese
Directions:
Cut the potatoes in half length-wise and then cut into strips that are about 1/2-inch thick.
Heat a medium-size skillet on medium heat and add the canola oil.
Slowly add the potatoes. Watch them closely and turn them as they cook.
When all sides of the potatoes are a golden color, remove them from the pan onto a plate with a paper towel.
Salt the fries.
Add the fries to the serving bowls in the shape of a mound. Set aside.
Heat a small skillet on low to medium heat and add the slices of hot dog. Continuously turn them as they cook so that the sides get just a little char on them.
Add them on top of the french fries.
Drizzle the chili on top of the fries and sliced hot dogs.
Top with cheese.
Heat in the microwave just long enough to melt the cheese and serve while hot.
More chili dog recipes
Chili cheese dog bites
Jamie's chipotle chili cheese dogs
Tequila braised Tex-Mex hot dogs