Triple cheese & chicken enchilada casserole
There are few things better than a cheesy enchilada. Except maybe an enchilada casserole made with three cheeses, spices and chicken, right? This is the ultimate comfort food classic and will have your kids begging for seconds.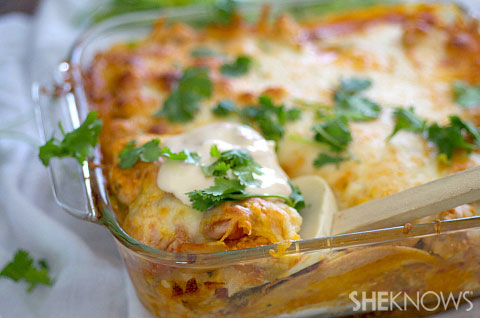 Chicken, cheese and salsa, what's not to love here? This gooey, oh-so-cheesy casserole takes everything you love in an enchilada and serves it up in a thick, hearty casserole. Not only is this amazing for kids and adults, it freezes well and makes fabulous leftovers. We're all about making lives easier (and cheesier).
Triple cheese & chicken enchilada casserole
Adapted from Taste of Home
Serves about 6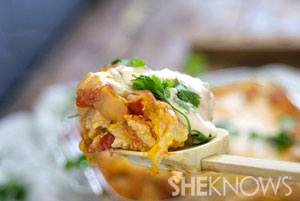 Ingredients: 
1 tablespoon olive oil
1 pound ground chicken
1 medium onion, chopped
1 (5 ounce) can green chiles, drained
1 cup chipotle salsa (with corn)
1 (10 ounce) jar enchilada sauce
1/2 tablespoon taco seasoning
1/2 tablespoon dried cilantro
6 small flour tortillas (super soft kind)
2 cups shredded cheddar cheese
1 cup shredded mozzarella cheese
1 cup queso blanco cheese
Fresh cilantro for garnish
Salt and pepper to taste
Directions: 
Preheat oven to 350 degrees F. Grease a 9 x 13-inch or 8 x 8-inch baking dish with nonstick cooking spray.
Heat the olive oil in a 3- or 4-quart skillet over medium heat. Add the onion and cook until aromatic and softened, about 5 minutes. Mix in the chicken and cook until lightly browned, about 4 to 5 more minutes. Mix in the green chiles, chipotle salsa, enchilada sauce, taco seasoning and dried cilantro. Add salt and pepper.
Reduce heat to medium low and let simmer for about 8 minutes, or until fully cooked. Remove from heat.
Layer 3 small tortillas on top of each other in the prepared baking dish. Top with half of the meat mixture. Sprinkle with cheddar cheese. Top with remaining 3 tortillas and the rest of the meat. Carefully spread the queso blanco over the meat sauce.
Sprinkle the top with the mozzarella cheese. Bake for about 45 minutes, or until cheese is lightly browned and bubbly.
Serve with fresh cilantro and enjoy.
More easy cheesy casserole recipes
Cheesy beef and macaroni casserole
Cheesy pork casserole recipe
Cheesy sausage potato casserole