Pepperoni past-za
Why make your family choose between pasta and pizza? Especially when they play so well together in this recipe?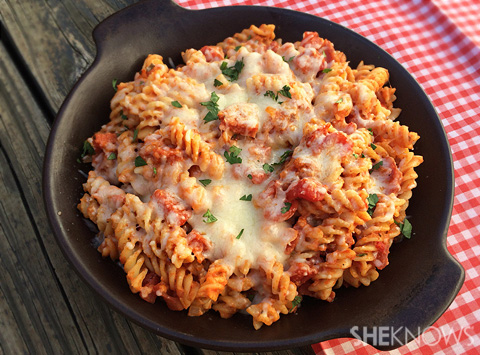 The fun thing about this recipe is that you can make it with whatever you want. I used pepperoni, but you can use sausage, mushrooms, black olives (if your kids like them) or any combo of ingredients you want.
Pepperoni past-za recipe
Serves 4-6
Ingredients:
1 pound dry spiral pasta
Kosher salt
1 tablespoon olive oil
1/2 white onion, finely diced
1/2 teaspoon dried oregano
4 cloves garlic, minced
1 (24 ounce) jar spaghetti sauce
1 (14.5) ounce can diced tomatoes, drained
1 (8 ounce) bag shredded mozzarella cheese, divided
1/2 cup Parmesan cheese
1 (8 ounce) log pepperoni, cut into chunks
Directions:
Preheat the oven to 350 degrees F.
Bring a large pot of water to a rolling boil, salt it heavily (about 2 tablespoons) and add the pasta. Cook it until it's just under al dente, remove it and drain it.
While the pasta is cooking, heat olive oil in a skillet over medium-high heat. Cook the onions until they're translucent, about 5 minutes. Add the garlic and oregano and cook until the garlic is fragrant, about 1 more minute.
Grease a 9 x 13-inch baking dish. Add the pasta, onion mixture, spaghetti sauce, diced tomatoes, most of the mozzarella (reserve a couple handfuls for the top), Parmesan and pepperoni and carefully mix it until it's well blended. Sprinkle on the remaining cheese and cover the dish with foil.
Bake the pasta for 40 minutes, remove the foil and bake it for another 10 to 15 minutes or until the cheese is melted, brown and bubbly.
More pasta recipes
Miraculous one-pot pasta
Fresh roasted tomato and Parmesan pasta
Dinner Shortcuts: Tuna and pasta cheese melts