Easy-peasy pizza wraps
Kids will love this idea for pizza turned into wraps. Stuff tortillas with cheese, tomato sauce and your favorite toppings and serve.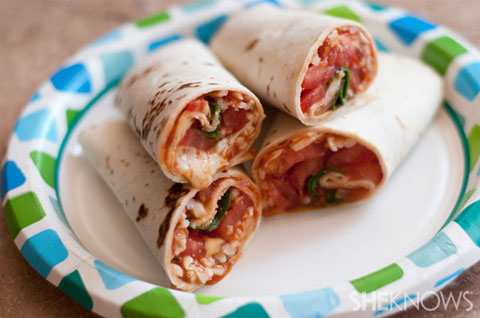 Pizza is one of our favorite family dinner options. While making homemade pizza can be time consuming, these pizza-inspired wraps use tortillas rather than pizza dough saving a lot of time. You can use any topping you desire such as, sausage, pineapple, chicken or lots of vegetables. If you don't want to use the oven to heat up these wraps, simply follow the directions but heat them for 1-2 minutes on a microwave safe plate rather than in the oven.
Easy-peasy pizza wraps recipe
Yields 4 wraps
Ingredients:
4 large tortillas
1/2 cup pizza sauce
2 tomatoes, sliced
1 (8 ounce) ball fresh mozzarella, sliced
Fresh basil leaves
Extra pizza sauce for dipping (optional)
Directions:
Preheat oven to 350 degrees F and line a baking sheet with parchment.
Divide the pizza sauce, tomato slices and sliced mozzarella cheese between each of the tortillas,
Top with fresh basil leaves and roll the tortillas up as tightly as possible.
Place on the baking sheet and bake for 5 minutes or until the cheese starts to melt.
Remove from the oven and slice in half.
Best served warm with extra pizza sauce if desired.
More pizza-inspired recipes
Pizza-stuffed portobello mushrooms
Bubble up pizza
Sausage pizza tacos