3 Picnic ideas that aren't sandwiches
Everyone loves picnics so why not explore fun lunch ideas. Here are three easy and creative ways to pack a family-friendly picnic that don't require sandwiches.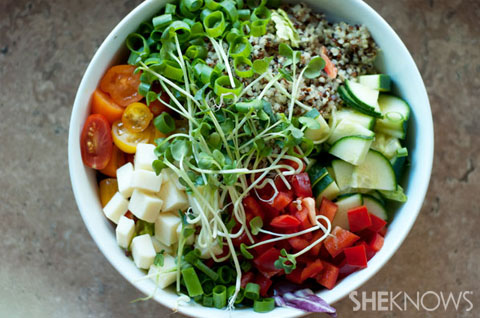 Who doesn't love to go to the park for a picnic? I sure do and while we often pack sandwiches I find I get bored with them from time to time. Here are three fun, easy and healthy ways to enjoy a sandwich-less picnic while keeping things kid friendly, healthy and tasty.
Farmers market quinoa bowls recipe
Yields 4 servings
Ingredients:
4 cups fresh baby spinach
2 cups cooked quinoa
1 large red bell pepper, diced
1/2 cucumber, diced
1/2 cup cherry tomatoes, halved
1/2 cup mozzarella cheese, diced
1/4 cup thinly sliced green onions
1 small handful fresh micro greens (optional)
1 cup favorite salad dressing (I used balsamic)
Directions:
In a large bowl (preferably with a lid), add the fresh spinach.
Begin layering the remaining ingredients on top of the spinach and place the lid on top of the bowl.
Before serving remove the lid and pour desired salad dressing over top. Using tongs, gently toss the salad and divide between plates. Serve immediately.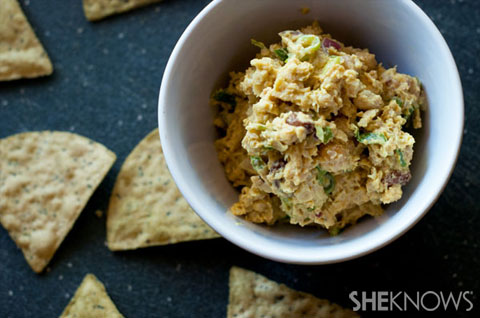 Curried chickpea spread
Ingredients:
1-1/2 cups homemade or canned chickpeas, mashed
1/4 cup thinly sliced green onions
1 tablespoon minced fresh flat leaf parsley
2 tablespoons roasted pumpkin seeds
1/4 cup currants
2 tablespoons mango chutney
2-3 tablespoons Vegenaise, mayonnaise or plain Greek yogurt
1 tablespoon fresh lemon juice
1 teaspoon agave or honey
1 tablespoon curry powder
Salt and pepper to taste
Directions:
In a bowl using a fork or a potato masher, mash the chickpeas.
Add in the remaining ingredients and mix very well.
Cover and chill for 2 hours to allow the flavors to blend.
Before serving mix well and serve with your favorite crackers, veggies or pita bread.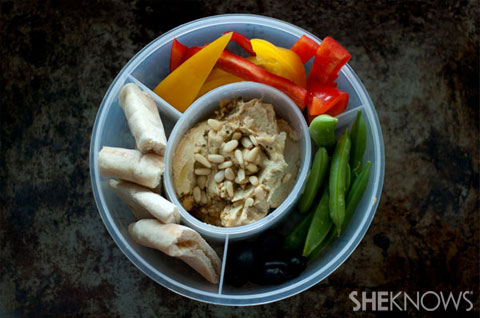 Hummus plates with fresh veggies recipe
Yields 4 servings
Ingredients:
1 cup prepared hummus
2 tablespoons good quality olive oil
2 tablespoons pine nuts
1 tablespoon crumbled feta cheese
1 red bell pepper, sliced
1 orange bell pepper sliced
1 cup sugar snap peas
1 cup black olives
Fresh pita bread or crackers
Directions:
In a serving bowl, add the hummus. Drizzle with the olive oil and add the pine nuts and feta. If not serving immediately, cover and chill until ready to eat.
On a serving plate, arrange the vegetables and crackers.
Serve the vegetables and crackers with the hummus. Best if eaten immediately.
More picnic-friendly recipes
Whole Foods copycat California quinoa salad
Inside out s'mores bars
Creamy lemon-infused pasta salad