Chicken nugget casserole
Tired of mac and weenies for dinner just to get the kids to eat without making two meals? Ease them into adult dishes with this kid-friendly chicken Parmesan recipe using a popular kiddo favorite.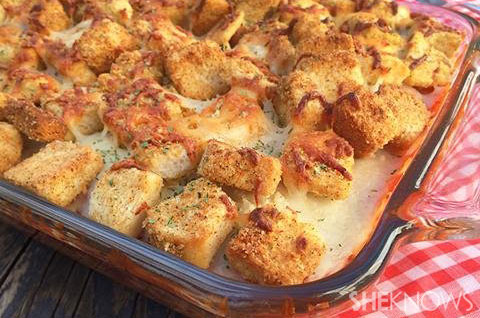 I love this recipe because it reconstructs a popular Italian restaurant favorite into a kid-friendly casserole. I serve it up with a side salad and olive oil bread dip (yes, some kids will eat them), but if your rug rats aren't as veggie friendly as others, you can blanch some zucchini, carrots, spinach or other favorite veggies and hide them in the sauce.
Chicken nugget casserole recipe
Serves 4-6
Ingredients:
6 ounces thin spaghetti or angel hair pasta
Kosher salt
3 cups pasta sauce (about 1-1/2 24-ounce jars)
1 (12.25 ounce) box frozen chicken nuggets
8 ounces shredded mozzarella, divided
4 ounces grated Parmesan
3 cups zesty Italian-flavored croutons
1 (5 ounce) bag croutons
Directions:
In a large covered pot over high heat, bring 2 to 3 quarts of water to a rolling boil. Toss in a generous amount of salt (I used about 2 tablespoons), then drop in your pasta and stir. Let it come back to a boil and cook it until it's not quite al dente (2 to 4 minutes, depending on your pasta) — until it's pliable and no longer has that raw, yellow color, but has just a tad too much firmness to the bite. Drain the pasta immediately after removing it from the stove top and toss it with 2 or 3 tablespoons of the pasta sauce. Place the pasta in a greased 2-quart (8.5 x 11 x 2-inch) casserole dish.
Preheat the oven to 350 degrees F.
Place the still-frozen chicken nuggets in a single layer on top of the pasta.
Pour the remaining sauce over the top and smooth it out.
Sprinkle most of the mozzarella cheese over the top, reserving just a bit (a heaping handful) for over the croutons. Sprinkle all of the Parmesan over the mozzarella. Top it with the croutons, then sprinkle the remaining mozzarella over the top.
Bake it for about 30 minutes or until the cheese is melty and the croutons and cheese are bubbly and brown.
More kid-friendly recipes adults will love
Baked chicken and zucchini casserole
Dinner Shortcuts: Taco pizza
Sloppy Joe casserole