Banana Nutella French toast
This rich and delicious French toast is stuffed with a chocolate hazelnut spread also known as Nutella and sweet bananas making this one super tasty way to enjoy breakfast time.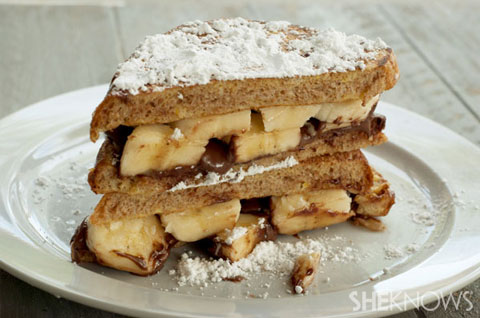 This easy stuffed French toast will make the whole family excited to eat breakfast. Thick slices of bread are spread with Nutella which is a chocolate spread made by blending hazelnuts and chocolate together and has the same consistency of peanut butter. Freshly sliced bananas really pair well with the chocolate flavor of the Nutella so I added slices inside the French toast to give this dish a little bit of texture.
Banana Nutella French toast recipe
Yields 4 servings
Ingredients:
8 slices thick-sliced bread
1/2 cup Nutella
2 large bananas, sliced
1/4 cup vanilla almond milk (or regular milk)
2 large eggs, beaten
1 teaspoon pure vanilla extract
Pinch of sea salt
Powdered sugar for garnish (optional)
Directions:
Divide the Nutella between 4 slices of the bread and top each with banana slices.
Place the other slice of bread on top and press down firmly to sandwich together.
In a shallow dish, combine the almond milk, vanilla, eggs and salt mixing well.
Heat a large pan over medium heat and spray with nonstick cooking spray.
Take 1 of the sandwiches and carefully dip each side in the egg mixture coating each side evenly.
Place in the warm pan and grill 3 to 4 minutes per side or until the egg has completely cooked and the bread is toasted and repeat until all of the French toast is cooked.
Slice the French toast into triangles and serve warm. Serve with powdered sugar sprinkled on top if desired.
More French toast recipes
Bananas foster French toast
Mascarpone French toast with cranberries
Cheesy Mexican-stuffed French toast