Cheesy chicken burgers
Cheesy chicken burgers are a low-carb and delicious grilling option. Chicken burgers stuffed with gooey cheese are a crowd-pleaser.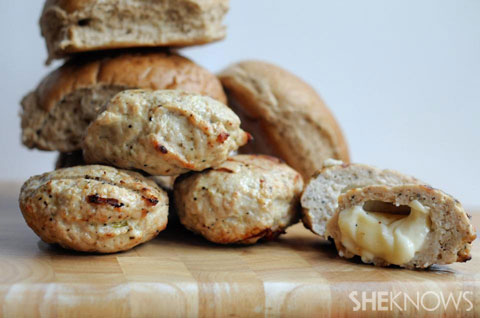 Cheesy chicken burgers
Serves 4
Ingredients:
1 pound ground chicken
1 tablespoon Montreal steak seasoning
1 tablespoon Worcestershire sauce
2 tablespoons olive oil
4 individual cheese rounds, wrappers removed
Directions:
Preheat grill to 400 degrees F.
In a large bowl, combine the chicken, steak seasoning and Worcestershire sauce until well mixed.
Divide the mixture into 8 even sections and flatten them all into identical burger shapes.
Place 1 piece of cheese into the middle of 1 section, top with a second and press the edges together.
Repeat until there are 4 patties, then brush them all with olive oil.
Grill for about 5 to 6 minutes on each side until done.
For a low-carb version, serve without a bun on top of a large salad, or serve on a bun if desired.
More chicken burgers to die for
Spinach feta chicken burgers with rosemary mayo
Chicken Parmesan burgers
Spicy barbecue chicken burgers with an island flair