Stacked massive nachos
Stacked massive nachos make nacho night interesting. Use tostada shells as the chips and pile 'em high with your nacho favorites.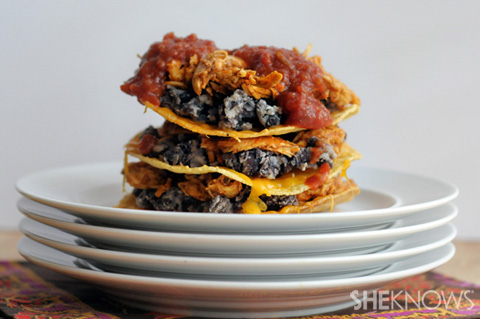 Massive stacked nachos
Serves 4
Ingredients:
4 boneless, skinless chicken breasts
12 tostada shells
2 (15 ounce) cans black beans, rinsed, drained and mashed
3 cups shredded mild cheddar cheese
1 tablespoon chili powder
1 tablespoon corn starch
1 teaspoon salt
1 teaspoon pepper
1 teaspoon cumin
1 teaspoon garlic powder
1/2 teaspoon paprika
1/2 teaspoon oregano
1/2 teaspoon red pepper flakes
Directions:
Bring a large pot of water to boil.
Add the chicken breasts and poach for about 10 minutes until the chicken is cooked through and shreds easily.
Remove the chicken to a plate and allow to cool for a few minutes, then shred with 2 forks.
Mix together the corn starch, salt, pepper, cumin, garlic powder, paprika, oregano and red pepper flakes.
Combine the shredded chicken with the spice mixture and 3/4 cup of water.
Bring to a simmer over medium heat until the sauce has thickened.
Preheat broiler.
Spread the tostada shells on a baking sheet and evenly distribute the cheese on top of each one.
Broil until the cheese is melted and bubbly.
To assemble, layer 1 tostada shell, mashed black beans, shredded chicken 3 times ending with chicken on top.
Serve with salsa, avocado, sour cream or any other nacho favorites.
More nacho recipes for the family