Dinner Shortcuts: Easy stromboli 
Stromboli doesn't have to take hours to create. This quick and easy version is ready in no time.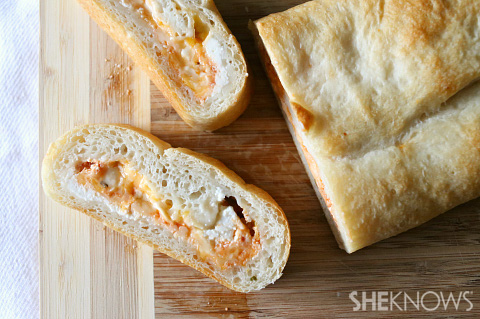 Homemade stromboli is one of my favorite dishes. It's almost like it combines my love of pizza and sandwiches. OK, I know it's not really like a sandwich but I love that I can grab and go without any mess. I can never seem to do that with a slice of pizza.
Easy stromboli
Yields 2-4 servings
Ingredients:
1 canned roll pizza dough (found in the refrigerated aisle near canned biscuits)
1/2 cup ricotta cheese
1/2 cup marinara sauce
1 cup shredded mozzarella cheese
Optional fillers: pepperoni, cooked sausage, onions, green peppers and olives
Directions:
Preheat oven to 400 degrees F and line a baking sheet with parchment paper.
Unroll dough onto prepared baking sheet and make sure that it's an even rectangle.
In a small bowl mix together ricotta cheese and marinara sauce. Spread evenly over the top of the dough, leaving about a 2-inch space from the edge of the dough.
Top with cheese and any other desired toppings.
Fold the long sides up over the top and connect in the middle. Gently pinch the top together so it's sealed. Pinch the ends and tuck under the dough.
Bake for about 20-25 minutes until the dough is fully cooked and lightly golden brown.
Serve plain or with a side of warmed marinara if desired.
More Dinner Shortcuts recipes
Greek meatball sliders recipe
Italian sub crescent roll-ups recipe
Chicken and rice casserole recipe