Biscuit sticky bun pull apart bread
This quick and easy sticky bun pull apart bread is perfect for Sunday morning breakfast. No yeast needed and ready in no time.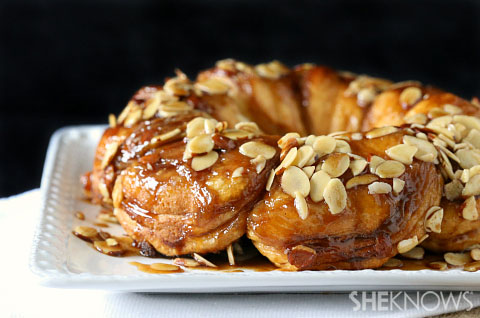 Nothing says breakfast like sticky buns. However, I'm not one to sit around and make a yeast risen pastry. I hate waiting and instead love to take a little shortcut when putting together this breakfast. I used almonds in this recipe but walnuts or pecans would work equally as well.
Biscuit sticky bun pull apart bread
Yields 4-6 servings
Ingredients:
3 tablespoons unsalted butter, melted
1/2 cup pure maple syrup
1 teaspoon vanilla extract
1/2 cup sliced almonds
1/3 cup dark brown sugar
1 teaspoon apple pie spice
1 (8 count) pull apart large biscuits (I used Grands)
Directions:
Preheat oven to 375 degrees F and spray a fluted Bundt pan with nonstick spray.
In a small bowl, mix together butter and maple syrup. In another small bowl mix together almonds, brown sugar and apple pie spice.
In the prepared pan, add half the maple syrup and brown sugar mixture.
Add in biscuits, slightly overlapping the biscuits so they bake up in a ring.
Pour on the rest of the maple syrup mixture and sprinkle on the remaining brown sugar mixture.
Bake for about 20 minutes until the biscuits are fully cooked.
Remove the biscuits from the oven, let rest for 1 minute and then flip out onto a large platter.
More breakfast recipes
Bananas foster French toast
Sweet potato ham hash
Nutella French toast roll-ups