Mushroom, bacon and cheese smothered chicken breast
We are taking boring chicken breast and giving it a makeover. This chicken is smothered with mushrooms, crispy bacon and lots of melted cheese.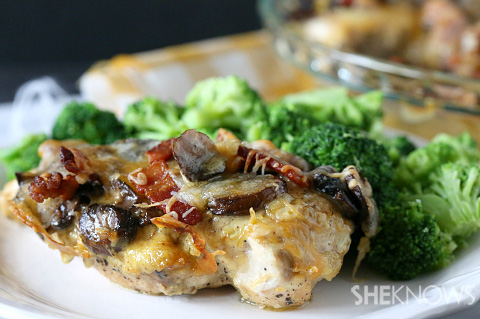 This chicken reminds me of the Alice Springs chicken you get from Outback. That stuff is so delicious I feel like I could easily eat my weight in its deliciousness. What is not to love about this dish? Honey mustard chicken smothered in bacon, mushrooms and cheese. Hello beautiful.
Mushroom, bacon and cheese smothered chicken breast
Yields 4 servings
Ingredients:
4 chicken breasts, seasoned and grilled
1/2 cup creamy Dijon mustard
1/4 cup clover honey
6 strips bacon, diced
1 pound sliced mushrooms
1 cup shredded sharp cheddar cheese
Directions: 
In a 9 x 13-inch casserole dish, add grilled chicken breasts. In a small bowl, whisk together mustard and honey. Pour over the chicken and evenly coat each piece.
In a large skillet set over medium heat, fry diced bacon until crisp. Once crisp, remove bacon from the pan and drain on a paper towel-lined plate.
Add mushrooms to the bacon grease and sauté until soft.
Cover chicken with mushrooms, bacon and cheddar cheese.
Put your broiler on high and add the pan to the oven. Broil just until the cheese is melted and lightly browned.
More chicken recipes
Buffalo chicken tater tot casserole
Chicken Parmesan burger
Chicken Parmesan meatball