Broccoli, bean and white cheddar-stuffed baked potatoes
Standard spuds just got an upgrade. Stuffed with hearty and healthy ingredients, you'll love these for dinner.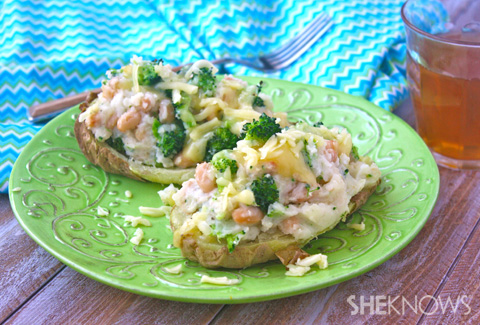 Take your standard spud from side dish to main dish with this recipe for broccoli, bean and white cheddar-stuffed baked potatoes. These are easy to make, and they're hearty and comforting, too.
I love it when you can make a great tasting meal out of standard ingredients. That's exactly what I did with these baked potatoes. They're stuffed high with broccoli and hearty beans, and let's not forget the cheddar cheese for extra flavor. These spuds will delight you.
Broccoli, bean and white cheddar-stuffed baked potatoes
Serves 2
Ingredients:
2 large baking potatoes, scrubbed clean
1/4 cup plain Greek yogurt
2 tablespoons butter
1/4 cup milk
1 garlic clove, minced
4 ounces shredded white cheddar cheese, divided
2 cups broccoli florets, chopped, steamed
1 (15 ounce) can cannellini (white) beans, drained and rinsed
1/2 teaspoon salt
1/4 teaspoon ground black pepper
Directions:
Preheat your oven to 350 degrees F. Line a baking sheet with aluminum foil.
Pierce the potatoes all over with a fork. Place on a plate and microwave on high for 5 minutes. Flip the potatoes over and cook for another 3 minutes.
Allow the potatoes to cool to the touch. Cut them in half, lengthwise, and scoop out the inside of the potato, leaving about 1/2 an inch around the edges and the bottom.
Place the potato into a bowl with the yogurt, butter, milk, garlic and half the cheese. Use a fork or potato masher to blend all the ingredients together until smooth.
Fold the broccoli and beans into the mixture. Spoon the potato mixture into the shells, packing lightly as you go.
Place the potatoes on the baking sheet and cook for about 10 minutes, or until they're warmed through.
Remove from the oven and sprinkle with the remaining cheese.
Serve warm.
Enjoy these potatoes for a great dinner.
More dinnertime recipes
Mediterranean chicken and polenta
Hearty tomato soup
Double-decker grilled cheese sandwiches