Strawberry almond milk chocolate muffins
These fluffy, healthy muffins are loaded with fresh strawberries and creamy milk chocolate chips.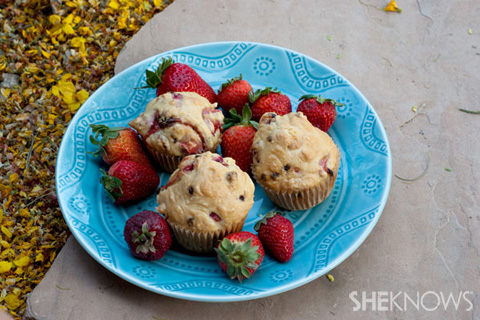 Two of my favorite flavors are strawberries and chocolate so I thought why not combine the two for a tasty muffin. Summer gives us a surplus of sweet, juicy strawberries and most often you can find great sales on them at your local markets. I make these during the summer for my family to snack on, and OK, yes for myself too. They are super easy and so yummy not to mention great for lunches or trips to the beach since they pack well.
Strawberry almond milk chocolate muffins recipe
Yields about 10 muffins
Ingredients:
1-1/2 cups almond flour
1/2 cup bread flour or all-purpose flour
2 tablespoons coconut oil, melted
1/2 teaspoon salt
2 teaspoons baking powder
1/2 cup milk chocolate chips
1 cup chopped strawberries
3/4 cup vanilla almond milk
1/2 cup brown sugar
1 egg
Directions:
Preheat oven to 350 degrees F and line a muffin tin with paper liners.
In a large bowl, add all of the dry ingredients.
In a separate bowl, add the wet ingredients and mix until smooth. Gently fold the wet ingredients into the dry ingredients mixing well and making sure there are no lumps.
Spoon the batter into each muffin cup about 3/4 of the way full.
Bake for 15 to 20 minutes or until the muffins have baked completely.
Remove from the muffin pan and allow to cool completely. Store for several days in an airtight container.
More muffin recipes
2-Minute blueberry mug muffin
Chocolate love muffins
Almond poppy seed muffins