Baked beans and cornbread
Baked beans and cornbread bring rustic and delicious to the forefront. Easy baked beans and perfectly golden cornbread team up for a fabulous dinner everyone will love!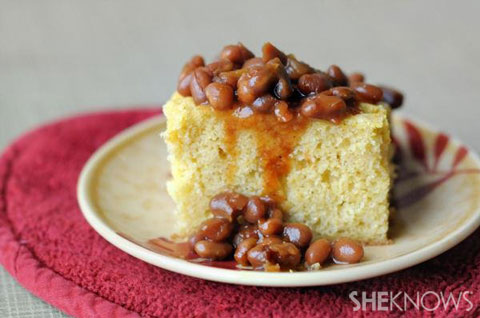 Baked beans and cornbread
Serves 6-8
Ingredients:
2 (15 ounce) cans navy beans, drained and rinsed
1 small white onion, chopped
2 cloves garlic, minced
1 (24 ounce) bottle ketchup
1 heaping cup brown sugar
1/4 cup cider vinegar
1/4 cup Dijon mustard
2 tablespoons Worcestershire sauce
1/2 tablespoon cayenne pepper
1 tablespoon paprika
1/2 tablespoon onion powder
1/2 tablespoon garlic powder
1 teaspoon salt
1 teaspoon pepper
1 cup yellow cornmeal
3/4 cup whole wheat flour
1-1/2 teaspoons baking powder
1/2 teaspoon baking soda
1/4 teaspoon salt
1-1/2 cups milk
1/3 cup vegetable oil
2 whole eggs
Directions:
In a large bowl, whisk together the ketchup, sugar, vinegar, mustard, Worcestershire sauce, cayenne, paprika, onion powder, garlic powder, salt and pepper.
Add the beans and chopped onions and mix to combine.
Pour the bean mixture into a 10-inch skillet.
Cover with foil and bake for 50 minutes at 350 degrees F.
While the beans are cooking, mix together the cornmeal, flour, baking powder, baking soda, salt, milk, vegetable oil and eggs until combined.
Pour into a greased 8 x 8-inch pan.
When the beans have finished cooking, allow them to cool while baking the cornbread.
To bake the cornbread, heat oven to 425 degrees F.
Bake for 23 to 25 minutes.
Slice and serve hot with beans on top.
More hearty cornbread recipes
Apple cinnamon cornbread
Cheesy cornbread biscuits
Gluten-free jalapeno cheddar cornbread