Mashed potato bacon pizza
Comfort foods collide in this mashed potato bacon pizza. It's as epic as it sounds.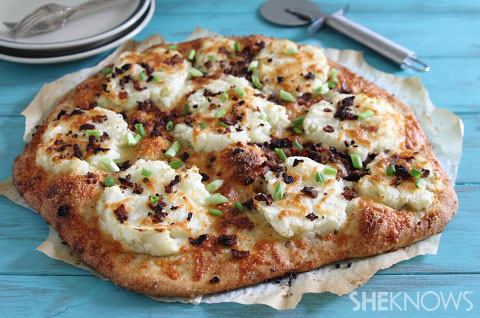 This is a crowd pleaser dinner if there ever was one. Pizza night means side dish comfort with creamy mashed potatoes and crispy bacon atop a bubbly golden dough. No one will be asking for takeout if this comes out of the oven.
Mashed potato bacon pizza
Serves 4
Ingredients:
1 (16 ounce) store-bought pizza dough, rolled out into a circle
2 large russet potatoes, peeled and cut into cubes
1/4 cup milk
1 tablespoon butter
Salt & pepper
4 ounces shredded mozzarella cheese
4 slices bacon, cooked and crumbled
2 tablespoons olive oil
1/2 teaspoon garlic powder
Chopped green onion for garnish
Directions:
Place potatoes in a medium pot and cover with cold water. Bring to a boil and cook until fork tender, about 15 minutes.
Drain potatoes and place in a large bowl. Mash together with the milk, butter and salt and pepper to taste until smooth.
Preheat oven and pizza stone (optional) to 500 degrees F.
Drizzle the rolled out pizza dough with the olive oil and then cover with the garlic powder.
Sprinkle half the cheese on top of the dough, and then place dollops of the mashed potatoes evenly around the dough.
Sprinkle the remaining cheese on top and then the bacon and place in the oven for 12 to 15 minutes until golden brown and bubbly.
Remove from the oven, top with the green onions and slice.
More pizza recipes
Philly cheesesteak pizza
Brussels sprouts and bacon pizza
Surf and turf pizza