Red, white and blue bark
Three cheers for the holidays. Make this patriotic treat for your summertime holiday gathering.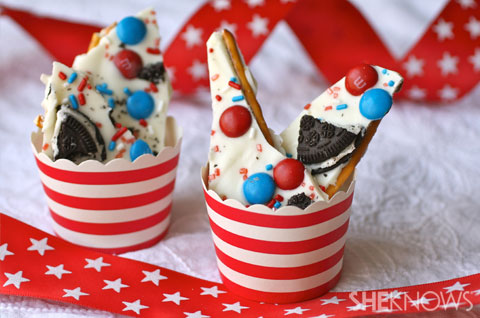 Red and blue M&M'S and sprinkles, and white chocolate add to the fun of this tasty and patriotic snack. Red, white and blue bark is festive and makes the perfect treat for a Memorial Day gathering.
I used pretzel sticks as a base, then poured the melted white chocolate over them. To top things off I added Oreo cookie crumbs, M&M'S and sprinkles. Get creative and add the red, white and blue candy or cookies of your choice.
Red, white and blue bark
Yields approximately 8-10 servings
Ingredients:
1/2 cup small pretzel sticks
1 pound white chocolate candy melting disks
5 Oreo cookies, crumbled into small pieces
1/3 cup blue and red M&M'S
Edible, decorative sprinkles
Directions:
Add parchment paper to a baking sheet.
Spread the pretzels in 1 layer over about 3/4 of the baking sheet. Keep them in a rectangular shape, a few inches from the edges of the pan.
In a microwave-safe bowl, melt the white chocolate candy in the microwave in 15-second increments. Stir the candy to ensure it's melted.
Pour the melted candy evenly over the pretzels. You may need to smooth it over with a spoon.
Scatter the cookie pieces and M&M'S evenly over the melted chocolate, and shake the candy sprinkles over the top.
Place the pan in the refrigerator on a flat surface for about 30 minutes, so the melted candy sets.
Remove the pan from the refrigerator. Use your hands to break apart the candy into 3- or 4-inch pieces.
Keep refrigerated or in a cool place until ready to serve.
Celebrate with this colorful candy treat.
More party recipes
Summer red, white and blueberry pie
Star spangled Rice Krispies pops
Red, white and blue summertime spritzer