Portobello, spinach and bacon pizza
Portobello, spinach and bacon pizza makes regular old pizza night more gourmet. Besides, who doesn't love bacon?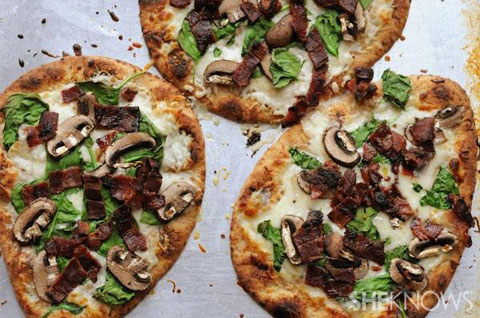 Portobello, spinach and bacon pizza
Serves 4
Ingredients:
1 pound prepared pizza dough
6 slices thick-cut bacon
2 cups fresh baby spinach
1 cup sliced portobello or cremini mushrooms
1-1/3 cups shredded mozzarella cheese
4 tablespoons olive oil
4 cloves minced garlic
Directions:
Preheat oven to 500 degrees F.
Line a large baking sheet with parchment paper.
Cook the bacon to crisp, drain, and then chop. Set aside.
While the bacon is cooking, divide the dough into 4 even pieces and roll out to 1/2-inch thickness.
Place on the prepared sheet and bake for 8 minutes at 500 degrees F until slightly browned.
Remove from the oven, brush with olive oil and sprinkle with minced garlic.
Sprinkle each pizza with 1/3 cup of mozzarella cheese, then evenly distribute all of the toppings on top of the cheese.
Bake for an additional 5 to 7 minutes until the crust is golden and crisp and the cheese is melted and bubbly.
Let cool for 5 minutes before cutting.
Serve hot.
More unforgettable pizza recipes
Surf and turf pizza
Chorizo pizza with arugula and caramelized onions
Cajun shrimp pizza