Weeknight naan pizzas
Weeknight naan pizzas make pizza night special. Store-bought naan makes the perfect canvas for everyone to pick their favorite toppings and go to town.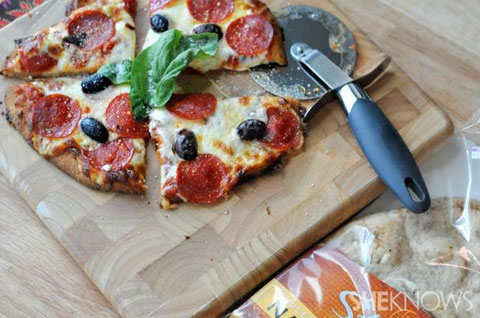 Weeknight naan pizzas
Serves 4
Ingredients:
4 store-bought whole grain naan breads
1-1/2 cups marinara sauce of choice
3 cups mozzarella cheese

1 cup of each desired topping (pepperoni slices, crumbled sausage, crumbled bacon, kalamata olives, chopped onions, chopped bell peppers, sliced mushrooms, etc.)
Directions:
Preheat oven to 500 degrees F.
Spread about 1/3 cup of sauce, or more if desired, on each naan bread.
Sprinkle with mozzarella cheese.
Evenly sprinkle desired ingredients on top of cheese.
Bake at 500 degrees F for 8 to 12 minutes until the bottom is crisp and the cheese is golden and bubbly.
Let the pizzas cool for about 3 to 5 minutes before cutting and serving.
Serve hot.
More favorite naan recipes
Garlic naan
Kale pesto pizza
Grilled steak sandwich with yogurt sauce