Baked chicken and zucchini casserole
Baked chicken and zucchini casserole is a one-dish wonder for those busy weeknights when dinner needs to be quick and healthy. Summer squash and cubed chicken are tossed in a light, creamy sauce and then baked to perfection.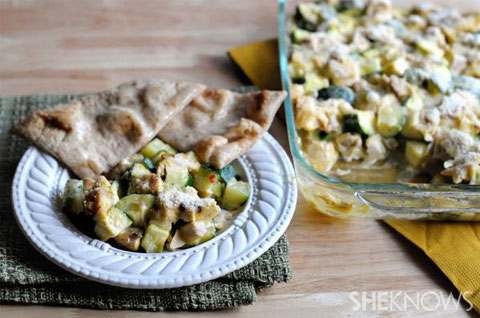 Baked chicken and zucchini casserole
Serves 4-6
Ingredients:
3 boneless, skinless chicken breasts, cut into small cubes
3 large zucchini, washed, quartered and sliced
1 (10 ounce) can cream of chicken soup
1 teaspoon garlic powder
1/2 teaspoon salt
1/2 teaspoon pepper
Directions:
Preheat oven to 375 degrees F.
Spray a 2-quart baking dish with nonstick spray.
Combine the chicken, zucchini, soup, garlic powder, salt and pepper in a bowl, then pour into the prepared baking dish.
Sprinkle with Parmesan cheese.
Bake at 375 degrees F for 40 to 45 minutes until the chicken and zucchini are cooked through and the cheese is golden and bubbly.
Let sit for 5 to 10 minutes before serving.
Serve hot.
More delectable zucchini casseroles
Southwestern zucchini and black bean casserole
Italian zucchini casserole
Cheese and zucchini casserole