Dinner Shortcuts: Taco pizza 
Pizza is delicious but it's even better when it's jazzed up with lots of Mexican flavors.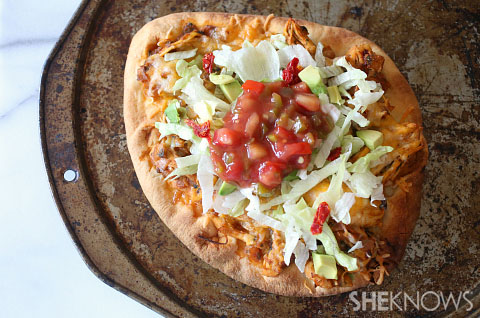 Taco pizza is my favorite type of specialty pizza. It's full of flavor and is the perfect use for leftovers. I used some leftover spiced taco chicken but ground beef works just as well.
Taco pizza
Yields 4 servings
Ingredients:
1 large store-bought precooked pizza crust, such as Boboli
1 cup leftover taco meat, chicken or ground beef
1 cup shredded Mexican cheese
1/2 cup shredded lettuce
1/3 cup salsa
1/4 cup diced avocado
Directions:
Preheat oven to 425 degrees F and top with taco meat and cheese.
Bake for about 15 to 20 minutes until the meat is hot and the cheese is melted.
Remove from the oven and top with shredded lettuce, salsa and avocado.
More Dinner Shortcuts recipe
Creamy tomato tortellini soup recipe
Italian sub crescent roll-ups recipe
Pesto pasta with peas and chicken sausage recipe