One-pot pasta dinner
This easy recipe uses a single pot for all the cooking, making dinnertime a breeze for Mom.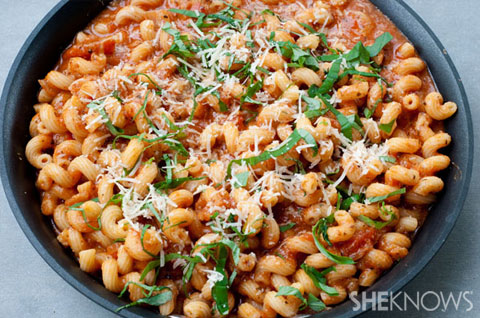 Sometimes the weeknights can get hectic, making dinner planning stressful and not fun for Mom. This super-easy recipe takes away the frustrations and uses a single pot for the entire dinner. This recipe calls for diced bacon but if you are a vegetarian, simply omit the meat and use crumbled veggie burgers or even tempeh if you desire a meaty texture.
One-pot pasta dinner recipe
Yields 8 servings
Ingredients:
1 pound apple wood smoked bacon, diced
1 small sweet onion, diced
3 cloves garlic, minced
1 (24 ounce) jar tomato pasta sauce
1 teaspoon garlic powder
1 pound cooked pasta
1/2 cup freshly grated Parmesan
1 handful fresh basil, chopped or sliced thin
Directions:
In a large pan over medium heat, add the diced bacon and cook until no longer pink. Transfer cooked bacon to a dish lined with paper towels to help remove excess grease.
In the same pan add the onions. Cook 3 to 4 minutes until the onions become soft and transparent. Add in the garlic and cook an additional minute stirring frequently.
Add in the tomato sauce, garlic and the cooked bacon bringing to a light simmer.
Once the sauce is simmering, carefully add the cooked pasta and 1/4 of the Parmesan cheese. Using tongs gently toss the pasta to distribute the sauce evenly. Remove from the heat and garnish with remaining Parmesan cheese and fresh basil. Serve warm.
More one-pot recipes
Skinny one-pot chicken Alfredo
One-pot enchilada pasta
One-pot chicken and couscous