Strawberry yogurt pancake roll-ups
The kids will love this take on pancakes. Rolled up and stuffed with strawberry yogurt, they're a fun twist on breakfast.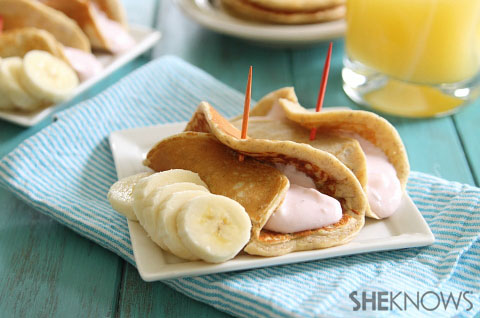 These pancake roll-ups combine two kid-friendly breakfast foods into one to make the morning route a little bit more fun.
Strawberry yogurt pancake roll-ups
Serves 4
Ingredients:
2 cups pancake mix
2 eggs
1 cup milk
2 tablespoons canola oil
1/2 teaspoon vanilla extract
6 ounces strawberry yogurt
Directions:
Grease and heat a pancake griddle or skillet over medium heat.
Whisk all the ingredients except the strawberry yogurt together in a bowl.
Once hot, pour the batter onto the skillet in an oval shape. Cook for about 1 to 2 minutes per side and transfer to a plate.
Once all pancakes are cooked, spoon a couple of tablespoons of the yogurt onto the pancake and roll up. You can either plate them seam side down or hold together with a toothpick for serving.
More pancake recipes
How to make shaped pancakes for kids
Puff the magic pancakes
Lemon pancakes