Dinner Shortcuts: Cheeseburger biscuit pizza
Take those burger flavors and turn them into a pizza. Biscuit pizza never tasted so good.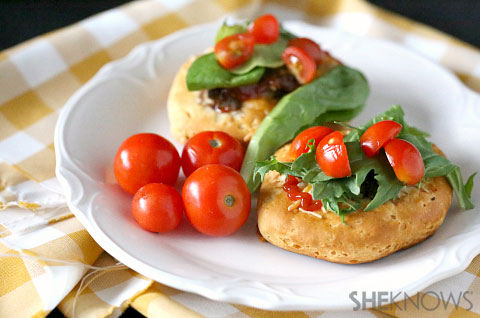 More often than not I'm too tired to cook dinner at the end of the day. I have either been cooking all day so I'm totally over the thought of cooking again or I'm just plain tired. Sadly we can't go hungry so these simple little biscuit pizzas were born. They mix the flavor of a cheeseburger onto one little biscuit crust.
Cheeseburger biscuit pizza
Yields 8 biscuit pizzas
Ingredients:
1 (8 count) refrigerated package large homestyle biscuits, flattened
1/2 pound ground beef, browned
1/2 cup shredded cheese
Ketchup
Mustard
Lettuce
Tomatoes
Directions:
Preheat oven to 375 degrees F and add flattened raw biscuit to a rimmed cookie sheet.
Add a little ground beef to each biscuit top.
Bake for about 12 minutes, remove, and then top each biscuit with cheese and add back to oven just to melt the cheese.
Once the cheese is melted remove from the oven.
Top with ketchup, mustard, lettuce and tomatoes if desired.
More Dinner Shortcuts recipes
Stove top meatloaf recipe
BBQ chicken quesadilla recipe
Monte Cristo crescent roll-up recipe