Dinner Shortcuts: Beef taco skillet dinner
Dinner is even easier when you can make it in one skillet. This flavorful beef taco skillet will have your family begging for seconds.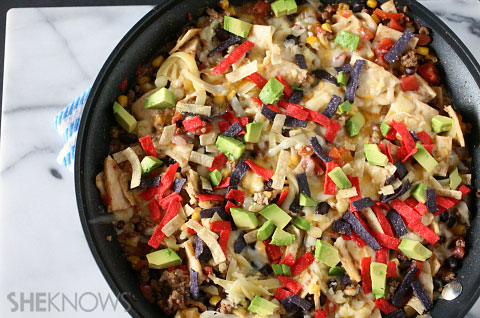 Quick dinners don't have to be flavorless. This super simple beef taco skillet is so full of Southwest flavor you won't want to stop at just one bowl.
Beef taco skillet supper
Yields 4 servings
Ingredients: 
1 pound ground beef
1 packet taco seasoning
2 cans Rotel tomatoes
1 can black beans, drained
1 small can chopped green chilies
1/3 cup frozen corn
6 small flour tortillas, cut into 2-inch cubes
1-1/2 cups shredded cheese
1 avocado, diced
1/4 cup diced cilantro, optional
1/4 cup nacho chip strips, optional
Directions: 
In a large skillet set over medium-high heat, add ground beef. Break apart and cook until browned.
Sprinkle in taco seasoning and add Rotel tomatoes, black beans, green chilies and frozen corn. Cook for about 5 minutes and add in flour tortillas. Cook for another 5 minutes.
Add in 1 cup cheese and stir to combine.
Sprinkle remaining cheese on top, let melt and sprinkle with avocado, cilantro and nacho chip strips if desired.
More Dinner Shortcuts recipes
Greek meatball sliders recipe
Italian sub crescent roll-ups recipe
Chicken and rice casserole recipe