Roasted garlic eggplant pasta
Roasted garlic eggplant pasta is a hearty meatless dish that will make Meatless Monday sing. Eggplant is cubed and roasted off, then tossed with garlic and a teeny bit of red pepper for a pasta sauce you can use any time.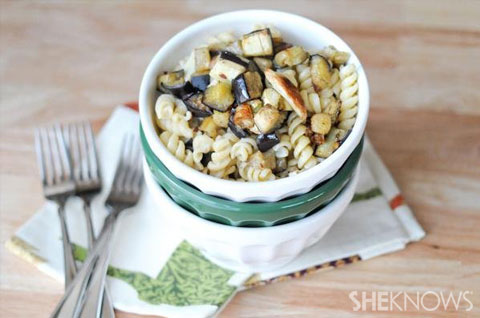 Roasted garlic eggplant pasta
Serves 4-6
Ingredients:
1 large eggplant, cubed
1 bulb garlic, divided into cloves with the peel removed
1/4 cup olive oil
1 pound short-cut pasta of choice
Salt and pepper to taste
1/2 teaspoon red pepper flakes (optional)
Directions:
Preheat oven to 400 degrees F.
Place the eggplant and garlic cloves on a large sheet pan.
Drizzle with olive oil and sprinkle with salt and pepper.
Roast for 20 to 25 minutes, turning halfway through, until caramelized and golden.
Let cool slightly.
While the eggplant and garlic are roasting, cook the pasta according to package directions just short of al dente.
Drain the pasta, reserving 1/2 cup of the cooking water.
Return to the pot and return the pot to the stove.
Add the eggplant and garlic mixture along with the cooking water to the pasta and cook an additional 3 to 4 minutes, stirring frequently, until the pasta is cooked to al dente.
Serve hot.
More hearty eggplant recipes
Oven-baked eggplant fries
Paprika spiced eggplant
Eggplant Parmesan bites