Nutella and strawberry-stuffed French toast
Say hello to breakfast with this crazy Nutella and strawberry-stuffed French toast. This is the perfect sweet way to start the day.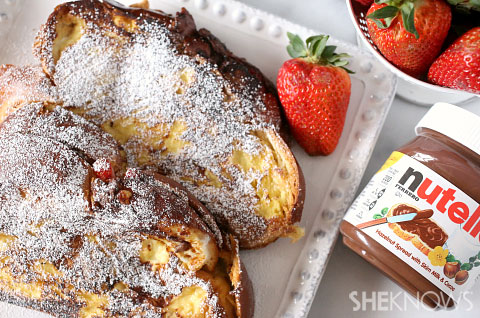 Around my house French toast is one of my favorite weekend breakfast dishes. I love the eggy flavor and the sprinkling of powdered sugar that goes on top. However, this French toast is nothing like you have seen before. I stuffed thick slices of challah bread with creamy Nutella and slices of fresh strawberries. You could totally serve this for breakfast or dessert. It's your choice.
Nutella and strawberry-stuffed French toast
2 servings
Ingredients: 
2 (2-inch) slices challah bread
6 tablespoons Nutella
1/2 cup sliced strawberries
1 large egg
1 cup whole milk
1 teaspoon vanilla extract
3 tablespoons unsalted butter
Powdered sugar, optional
Directions:
Cut a slice into the middle of each slice of challah bread. You want to make the slice deep but keep it connected at the sides and to the back.
Spread 3 tablespoons Nutella into each middle slice and stuff each slice with 1/4 cup strawberries.
In an 8 x 8-inch dish, whisk together egg, milk and vanilla extract. Once mixed quickly dip each side of the French toast into the egg mixture and add to a plate.
In a large skillet set over medium heat, melt butter.
Once the butter is hot, add the French toast and cook until browned, flip and cook until the other side is browned.
Add French toast to a plate and sprinkle with powdered sugar.
More French toast recipes
Nutella French toast roll-ups recipe
Bananas Foster French toast recipe
Mascarpone-stuffed French toast recipe