Overnight berry French toast
Who wants to wake up and do all the breakfast preparation? This simple dish lets you prep the night before so you can wake up to breakfast. Just pop it in the oven and wait.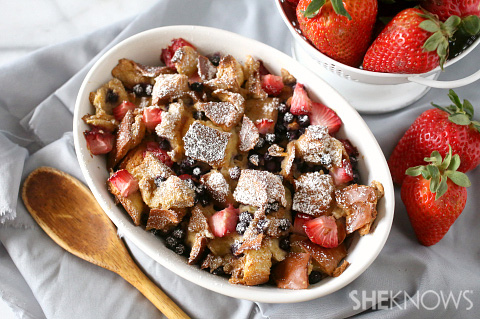 When I was a kid I always tried to make something special for my mom on Mother's Day. Usually my "creations" were not much to write home about but occasionally I would make a decent meal. Now that I'm older I know I can cook but sadly my mom and I do not live anywhere near each other. If I did live near her I would definitely whip up this baked treat. This overnight French toast is packed full of berries and dusted with just a sprinkling of powdered sugar. Every mother will go crazy for a plate of this.
Overnight berry French toast
Adapted from MisoGinger
Yields 9 x 13-inch dish
Ingredients:
1 large loaf challah bread
5 large eggs
1-1/2 cups whole milk
1/2 cup heavy cream
1/4 cup sugar
1-1/2 teaspoons apple pie spice
1/4 teaspoon kosher salt
1 cup frozen wild blueberries
1 cup diced fresh strawberries
1/2 cup chopped pecans, toasted
Powdered sugar, for sprinkling
Maple syrup, for drizzling
Directions: 
Slice and cube challah bread into 1-inch pieces. Once all the bread is cubed, add to a 9 x 13-inch casserole dish. The dish should be full and have a few layers of challah bread.
In a medium-sized mixing bowl, whisk together eggs, milk, cream, sugar, apple pie spice and kosher salt.
Once the egg mixture is smooth, stir in blueberries, strawberries and pecans.
Pour mixture evenly over the challah and stir to combine.
Cover the mixture with foil and set in the refrigerator overnight or at least 1 hour.
When you're ready to bake your French toast, simply pre-heat the oven to 350 degrees F and bake for 20 minutes covered and another 20 minutes uncovered.
Once fully baked, sprinkle with powdered sugar and drizzle with maple syrup.
More Mother's Day recipes
Unique Mother's Day recipes
Mother's Day grilling menu
Mother's Day tea party menu