Cinnamon and sugar crusted buttermilk biscuits with apple butter
Soft, flaky, homemade comfort food to the max.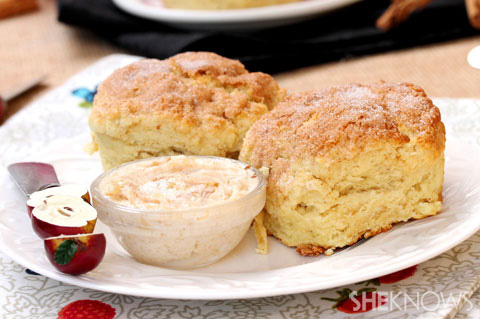 As if a soft and flaky biscuit wasn't good enough on its own, how about one that's cinnamon and sugar crusted. And then to top it off, why not add some creamy homemade apple cinnamon butter in the middle when it's still hot. Now you're talking. I like to make a few extra for times when I need a grab-and-go breakfast. These yummies really hit the spot but they have a habit of disappearing fast.
Cinnamon and sugar crusted buttermilk biscuits and apple butter recipe
Yields 6 large biscuits
Ingredients:
For the biscuits
2 cups all-purpose flour
2-1/2 teaspoons baking powder
1 teaspoon baking soda
3/4 teaspoon salt
1/3 cup butter (hard right out of the refrigerator)
3/4 cup buttermilk
2 teaspoons milk (for the topping)
2 tablespoons sugar (for the topping)
1/4 teaspoon cinnamon (for the topping)
For the apple butter
1 teaspoon butter (for cooking the apple)
1 apple, peeled, cored and diced (any type of apple)
1/4 teaspoon ground cinnamon
4 teaspoons brown sugar
3 dashes salt
1/2 cup softened butter
Directions:
For the biscuits
Preheat the oven to 450 degrees F.
In a medium-size bowl, add the flour, baking powder, baking soda, salt and buttermilk.
Use a grater to shred the butter just as you would cheese. Add the butter to the flour mixture.
Cut the butter into the flour mixture with a fork. Use the fork to roughly mix the ingredients together. Then use your hands to knead the dough.
Sprinkle a little bit of flour on a large cookie sheet or cutting board and lay the dough on it. Roll the dough until it's about an inch thick.
Use a biscuit or large cookie cutter to cut out 6 biscuits. You may need to start with cutting 4 biscuits and then roll out the dough again to cut the remaining 2 biscuits.
Lay the biscuits side by side leaning up against one another in a greased large iron skillet.
Spoon or brush milk on top of the biscuits.
Sprinkle cinnamon and sugar on top of each biscuit.
Bake in the oven until the tops are a light golden brown (about 15 minutes).
Serve warm with apple butter.
For the apple butter
Heat a small skillet on low to medium heat and add 1 teaspoon of butter, the apple, cinnamon, brown sugar and salt.
Stir as the apples cook. Continue to cook until the apples start to turn translucent. Let cool.
In a food processor, add the remaining butter and the cooled apple mixture. Pulse until the apple mixture is incorporated with the butter.
Spoon the apple butter into small individual size bowls.
Serve with warm biscuits.
More biscuit recipes
Pull-apart hot cross biscuits
7-Up biscuits
Grandma's perfect buttermilk biscuits