Dinner Shortcuts: Tuna and pasta cheese melt
Tuna melt is a classic diner favorite. We took all that flavor and threw it into a tasty pasta supper.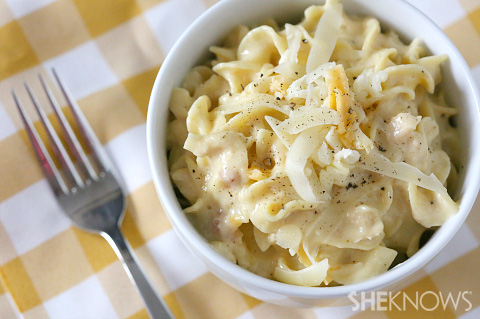 When I'm having a bad day I always want something that reminds me of growing up. I love that feeling of eating a dish that just reminds you of being a kid again. That is how I feel anytime I have this dish. It's super simple to throw together and totally reminds me of being 10 years old.
Tuna and pasta cheese melt
Yields 4 servings
Ingredients:
3-1/2 cups water
3 cups uncooked wide egg noodles
1 can cream of chicken soup
1 cup milk
2 (6 ounce) cans tuna, drained
1 cup shredded cheese
Directions:
In a large high-sided skillet set over high heat, add water. Once the water is boiling add in noodles.
Once the noodles are al dente turn the heat to medium and add in cream of chicken coup, milk and tuna. (Do not drain water.)
Cook until the mixture is thickened.
Add in cheese and stir until melted.
More Dinner Shortcuts recipes
Corn dog muffin recipe
Taco mac casserole recipe
Oven baked meatball sub recipe