Modern Mom: The best kids' tableware around
Calling all moms. We've scoured and found the best, most durable kids' tableware for your little ones.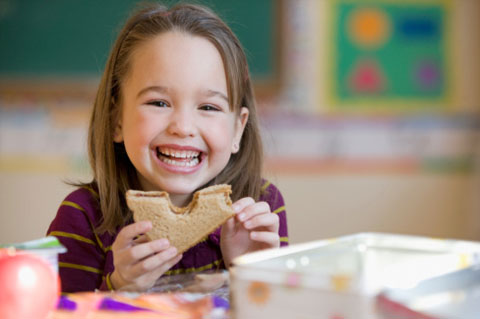 Photo credit: KidStock / Brand X Pictures / Getty images
If you're in need of plates and cups for your toddlers and kids, look no further. We've found the best tableware for your little ones. It can withstand toddler temper tantrums, messy eaters and more.
Boon Saucer
I have a rambunctious almost 2-year-old whose favorite thing to do is throw food and everything that comes with it. If we don't use a plate, she makes a huge mess on her high chair table, but if we do use a regular plate, that mess is transferred to the floor. Enter the Boon Saucer Slip Resistant Plate. Its unique, edgeless shape makes it very difficult for Baby to pick up. It has three divided sections so Baby's food doesn't get mixed up. Surprisingly, my daughter is not able to throw her plate, and most of the food stays on it, too.
NUK Mash & Serve Bowl
In addition to my almost 2-year-old, I have a 7-month-old (yes, things get crazy around here). While I've never been one to spend hours making my baby's food (hey, I'm lucky to get dinner on the table for myself and my husband), I do prefer to feed her natural foods instead of purees. The NUK Mash & Serve Bowl allows me to drop a banana, avocado or other soft fruit/veggie into the bowl and mash right before feeding her. For dinner, I mash some of the food we're eating and feed it to her. Simple, easy and not time-consuming at all, just how I prefer.
Spuni
Spuni is your baby's first spoon. It's designed to help your baby eat more easily because the spoon resembles the natural latching instinct that babies are born with. From personal experience, spoons that are too deep make it hard for the baby to take in all the food. In fact, most of it winds up on her bib than in her mouth. With Spuni, the food goes right where it should. We hardly use a bib anymore and she's only seven months.
Munchie Mug
Munchie Mug is the best spill-proof snack container for toddlers. We've tried a variety of brands, and Cheerios or Goldfish wind up everywhere. With Munchie Mug, the snack stays in the cup or in my child's hand. Perfect for road trips, park dates and grocery shopping, I never worry about spills when using the Munchie Mug.
Table Topper
Table Topper is a genius invention that keeps your kids clean — and busy — while dining out. These aren't your typical sticky place mats; they're place mats that come with stickers to keep your toddler entertained throughout the meal. We use the regular ones for quick meals on the go, and the activity ones when we plan on staying awhile. They're eco-friendly, BPA-free and protect your child from dirt and germs when dining.
Foogo by Thermos
Looking for the best sippy cup around? Look no further than Foogo by Thermos Leak Proof Sippy Cup. It keeps drinks cold for up to six hours, making it the perfect cup for trips to the zoo, long days of running errands and for those who endure hot summers. The product is easy to clean, dishwasher safe and BPA-free.
More Modern Mom
Modern Mom: Signs your child may have an eating disorder
Modern Mom: Helping kids with food allergies
Modern Mom: 5 Nutrients your child may be missing