Blueberry muffin waffles
Blueberry muffin waffles marry two breakfast favorites and live happily ever after in the tummies, minds and hearts of your children.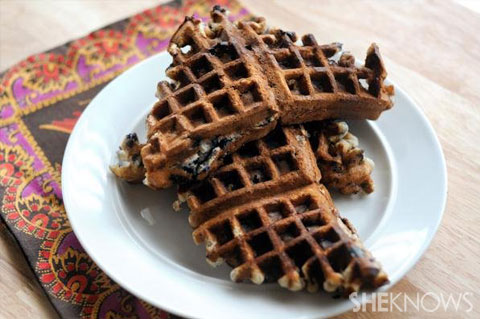 Blueberry muffin waffles
Serves 4-6
Ingredients:
1 cup mashed banana
1 egg
3/4 cup granulated sugar
2 tablespoons milled flax
1 cup buttermilk
1/2 cup vegetable oil
2-1/4 cups flour
1/4 teaspoon salt
1 teaspoon baking powder
1 cup fresh blueberries
Butter and syrup, optional
Directions:
Heat a waffle iron according to manufacturer's directions.
In a large mixing bowl whisk together the banana, egg, sugar, flax, buttermilk and oil until well mixed.
Sift together the flour, salt and baking powder and then fold into the wet mixture.
Fold the blueberries into the batter.
Spray the waffle iron liberally with nonstick spray or brush with oil.
Scoop the batter by the 1/3 cupful into the waffle iron and cook for about 2 to 3 minutes until golden brown and cooked through.
Repeat until all of the waffles are made; serve with butter and syrup as desired.
More waffle recipes to blow your mind
Pretty in pink strawberry waffles
Cinnamon-peach waffles
Funfetti cake waffles