Spicy shrimp in coconut sauce over rice
Spicy shrimp in coconut sauce over rice brings an exotic twist to the simple seafood dinner. Enjoy over rice, or over some sauteed cabbage for a low-carb kick. Remove the seeds and veins of the jalapenos for a milder take kids will love.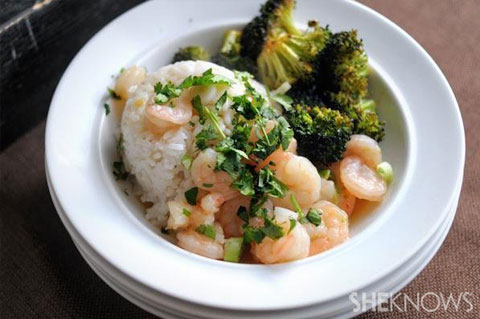 Spicy shrimp in coconut sauce over rice
Serves 4
Ingredients:
1 pound small shrimp, peeled and deveined
1 (14 ounce) can light coconut milk
1 tablespoon olive oil
4 cloves garlic, minced
2 jalapeno peppers, sliced (optional: Remove seeds for milder flavor)
1 tablespoon grated ginger
1 teaspoon red pepper flakes (optional)
1/3 cup chopped green onion
1 tablespoon honey
1 tablespoon sriracha chile sauce
1 cup white rice
2 tablespoons canola oil
1 cup water
Chopped cilantro, optional
Directions:
In a medium to large skillet, heat the olive oil over medium heat.
Add the garlic, jalapeno pepper, green onions and red pepper flakes.
Saute for about 4 to 5 minutes until the peppers start to soften.
Add the shrimp and cook for about 3 to 4 minutes until they start to turn pink.
Add 2/3 cup of coconut milk, the honey and the sriracha sauce.
Bring to a simmer and cook for another 3 to 4 minutes until thickened and the shrimp is cooked through.
While the vegetables are sauteing, bring the rice, canola oil, water and the remaining 1 cup of coconut milk to a boil.
Reduce heat to low and cover, cooking for 20 minutes until the rice is cooked through and tender.
Serve hot with the shrimp sauce over the cooked rice.
More favorite shrimp recipes
Thai red curry shrimp with green beans
Shrimp fajita bisque
Cajun shrimp pizza