Peanut butter and jelly French toast roll-ups
It's time to update those tired ol' French toast sticks to something a little more modern (and well, delicious). Those cardboard sticks were good in elementary school but don't you think your kids deserve better? That's why these super fluffy, peanut butter and jelly French toast roll-ups need to be on your brunch menu.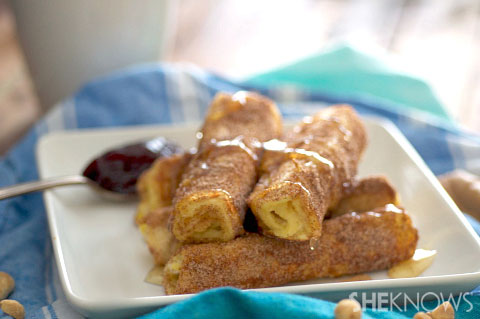 I mean, don't these look incredible? Each fluffy roll-up is filled with creamy peanut butter and tart jam, giving each bite more flavor than those boring sticks ever had. Plus, this rolls up your favorite sandwich into a breakfast treat, so what's not to love?
Peanut butter and jelly French toast roll-ups
Serves about 8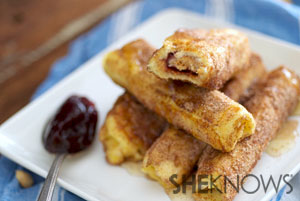 Ingredients: 
8 slices Wonder Bread, crusts removed
12 teaspoons creamy peanut butter
About 5-6 teaspoons raspberry jam
2 large eggs, room temperature
3 tablespoons heavy cream
1/3 cup cinnamon sugar
Butter for the pan
Honey for the garnish
Directions: 
Grease a large skillet with butter. Preheat to medium-high heat.
Roll the bread out with a rolling pin to flatten. Spread 1-1/2 teaspoons of peanut butter over the center of the bread. Top with about 3/4 teaspoon raspberry jam. Roll the dough into a small jelly roll.
Whisk the eggs and cream together in a bowl. Dip the bread rolls into the egg and milk mixture and place in the hot skillet. Cook until golden brown on all sides, about 5 to 6 minutes.
While they are still warm, dip the French toast roll-ups in the cinnamon sugar and roll up. Serve warm with honey.
More French toast recipes
Bananas Foster French toast
Challah French toast with warm apples and cinnamon
Baked brioche French toast with walnut crumble topping