Snacks on sticks: 3 Easy after-school snack ideas
Kids ravenous after school? Here are three fun snack ideas to keep them happy.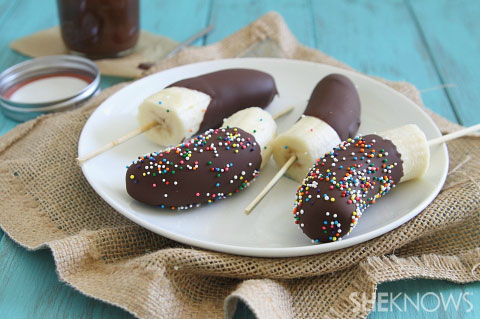 Chocolate-dipped banana pops
These frozen banana pops are the perfect sweet treat. Freezing the bananas and then dipping them in chocolate creates a fun magic shell you can top with sprinkles for something special.
Serves 2-4
Ingredients:
2 bananas, cut in half
1 cup chocolate chips
1-1/2 tablespoons coconut oil
Sprinkles (*optional)
Wooden skewers or Popsicle sticks
Directions:
Place a skewer or Popsicle stick into each banana half. Lay the bananas on a parchment-lined baking sheet and freeze for 1 hour.
Melt the chocolate and coconut oil and stir together.
Dip the banana pops into the chocolate and top immediately with sprinkles if using.
Lay the bananas back on the baking sheet until the chocolate hardens. Serve immediately or keep refrigerated/frozen until serving.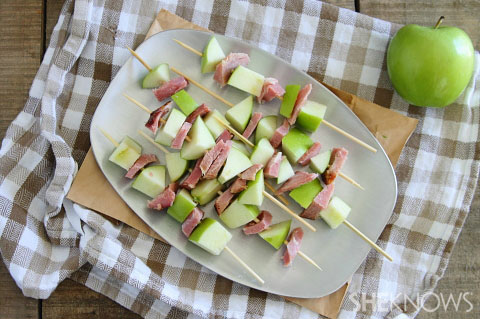 Apple and ham skewers
A tart Granny Smith apple and some cooked (or deli sliced) ham make a great healthy and protein packed snack.
Serves 2-4
Ingredients:
1 Granny Smith apple, cubed
1/4 pound deli ham slices or cooked ham, cubed
Wooden skewers
Directions:
Thread the apple and ham onto the skewers and serve.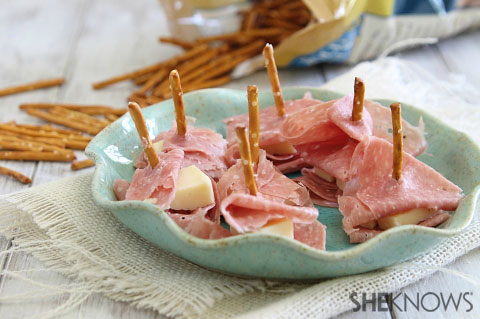 Salami and cheese pretzel sticks
Pretzel sticks make a fun edible skewer for some salami and cheese snacks.
Serves 2-4
Ingredients:
8 pretzel sticks
8 cubes cheddar cheese
8 slices salami
Directions:
Cut the salami slices in half, thread half onto a pretzel stick followed by the cubed cheddar and then top with the other half of salami.
More snacks for kids
3 Creepy-crawly kids snacks
5 Protein rich snacks kids love
Budget-friendly snack ideas for kids