Crunchy cornflake buttermilk "fried" chicken recipe
Finely crushed corn flakes are the coating to this buttermilk marinated un-fried chicken. This healthier version still gives you that crispy crunchy chicken without all of the grease.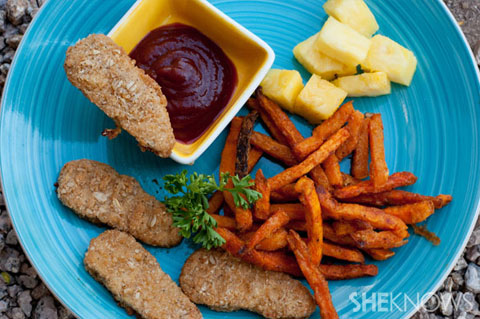 Everyone loves a good piece of fried chicken but not all of that greasiness that comes with it. Here's a super easy and much healthier version of what we call "un-fried" chicken. Soaking the chicken in the buttermilk helps tenderize it and even adds some flavor. The cornflakes give this chicken a crispy coating that still gives you the feeling you're eating a deep fried version.
Crunchy cornflake buttermilk "fried" chicken recipe
Yields 4-6 servings
Ingredients:
4 boneless, skinless chicken breasts cut into pieces
1/2 cup low-fat buttermilk
1-2 teaspoons hot sauce (depending on desired level of heat)
1 lemon, juiced and zested
1-1/2 cups cornflakes, very finely crushed
1 tablespoon salt
2 tablespoons garlic powder
2 tablespoons fresh black pepper
Directions
Place the chicken pieces in a large bowl and pour the buttermilk, hot sauce and lemon juice and zest over top. Toss well to coat and cover with plastic wrap. Chill the chicken for several hours in the refrigerator.
Preheat oven to 400 degrees F and line a baking pan with parchment paper.
In a shallow dish, add the cornflakes and the seasonings.
Dredge each piece of chicken in the cornflake mixture coating evenly and place on the baking sheet.
Bake the chicken for 15 minutes or until the center is cooked completely.
Serve warm with your favorite dip and side dishes.
More healthy chicken recipes
Healthy chicken burrito bowls
Healthy barbecue chicken salad
Gluten-free coconut chicken bites