Little apple dippers
Fresh apples and a variety of toppings make these little dippers a super healthy and yummy way for kids to eat healthy.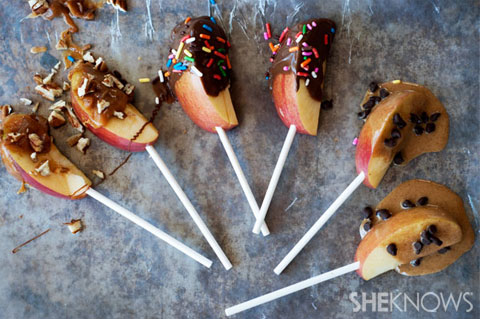 Getting kids to eat something good for them seems to be a challenge in my house. As a mom I have to get creative and sometimes sneaky when it comes to incorporating healthier foods into my children's meals. Here I took fresh apple slices and dipped them in various toppings such as almond butter and Nutella and topped them off with nuts and chocolate. These are always a big hit and never last long.
Little apple dippers recipe
Inspired by Pinterest
Yields 8 servings (2 slices per person)
Ingredients:
For the apples
2 large fuji apples, sliced thick about 8 slices per apple
1/4 cup melted almond butter
1/4 cup melted Nutella
1/4 cup warm caramel
16 mini lollipop sticks
Topping ideas:
Mini dark chocolate chips
Crushed peanuts, almonds or walnuts
Shredded coconut
Crushed graham cracker crumbs
Cinnamon
Toffee pieces
Directions:
Line a baking sheet with wax paper.
Carefully insert 1 of the lollipop sticks into each of the apple slices.
Begin dipping each of the apple slices into the warm dips (almond butter, Nutella, caramel).
Sprinkle the dipped apple slices with your choice of toppings and lay on the wax paper to cool.
These are best served immediately as the apples will turn brown the longer they sit.
More recipes using apples
Bacon apple pie
Mini caramel apple bites
Homemade chicken apple sausages