3 Perfect mini cream puff recipes
Is there anything cuter than a cream puff, or a choux à la crème, as our fancy French friends say? These small, irresistible little puffs of cream are one of my favorite desserts. They easily make a statement, are quite easy to eat and can be turned from a dessert to an appetizer in seconds.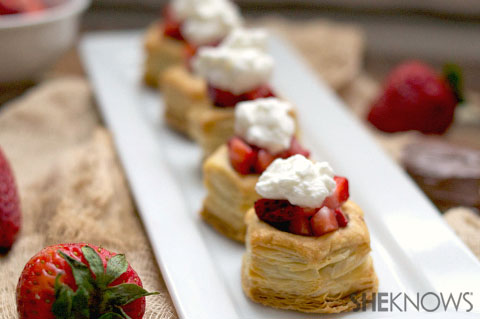 Instead of sticking with the regular ol' whipped cream, I made some unique cream puffs with fun ingredients like rich hazelnut spread and fluffy whipped goat cheese. Whether you're a fan of sweet or savory, these puffs will be a hit in your house — I guarantee it.
Hazelnut, whipped cream & strawberry puffs
Serves about 4
Ingredients: 
8 mini puff pastry shells
3 tablespoons Nocciolata Hazelnut Spread
About 5 tablespoons chopped strawberries
2 tablespoons whipped cream
Directions: 
Preheat oven to 400 degrees F. Grease a baking sheet with nonstick cooking spray. Place the mini shells 1 inch apart on the baking sheet. Bake for about 20 minutes, or until golden brown.
While they are still warm, press the middles down. Top each shell with 1 teaspoon of hazelnut spread, 1-1/2 teaspoons of chopped strawberries and 1/2 teaspoon whipped cream.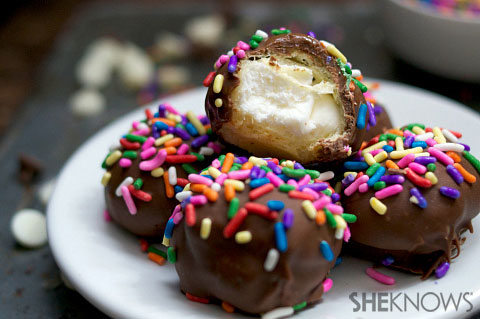 Chocolate cream puff truffles
Serves about 6 (2 cream puff truffles each)
Ingredients: 
12 mini frozen cream puffs
About 2-1/2 cups milk chocolate chips
2 tablespoons canola oil
Rainbow sprinkles
Directions: 
Melt the chocolate chips in a microwave safe bowl for about 90 seconds, stopping to stir every 30 seconds. Add the oil and mix until chocolate is perfectly melted.
Using skewers, dip the puffs into the chocolate and liberally coat. Let the excess chocolate drip off the puffs. While the chocolate is still melted, sprinkle with rainbow sprinkles.
Place on a parchment-lined baking dish and freeze for about an hour, or until set.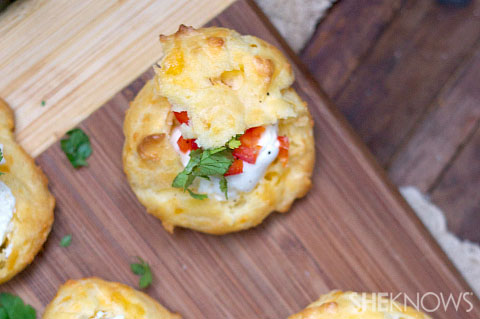 Whipped goat cheese and pepper cream puffs
Puffs inspired by Dorie Greenspan
Yields about 18 mini puffs
Ingredients: 
For the puffs: 
1/4 cup heavy cream
1/4 cup water
4 tablespoons (1/2 stick) unsalted butter, chopped into pieces
Dash of salt
1/2 cup all-purpose flour
2-1/2 eggs
3/4 cup cheddar cheese
For the filling:
3-1/2 ounces goat cheese
1-1/2 ounces cream cheese
2-1/2 tablespoons heavy cream
1 tablespoon oil
Salt and pepper
2 small sweet peppers, chopped
Fresh cilantro
Directions:
Preheat oven to 375 degrees F. Line a baking sheet with parchment paper and grease with nonstick cooking spray.
Heat the cream, water and butter in a heavy bottomed saucepan over medium-high heat. Bring the mixture to a rapid boil and then reduce heat to medium. Whisking constantly, add the flour and salt all at one time. Keep stirring for about 2 more minutes, or until a dough forms.
Place the dough into a mixing bowl fitted with a paddle attachment. Add the eggs and beat until mixture is smooth and shiny, about 3 minutes. Stir in the cheese until fully combined.
Using a tablespoon as a measurer, place the dough 1-inch apart on the prepared baking sheet. Bake for about 12 minutes. Rotate the pan and bake another 10 minutes, or until golden brown. Let cool completely.
Whisk the goat cheese, cream cheese, heavy cream, oil and salt and pepper until soft and fluffy. Once the puff pastries have cooled, carefully cut out the tops. Fill each shell with about 1-1/2 teaspoons of goat cheese mousse. Add chopped peppers, cilantro and cracked pepper to each shell.
More puff pastry recipes
Ham and cheese puff pastry stromboli recipe
Mini puff pastry pot pie recipes
BLT Caprese sliders on puff pastry buns