Spicy garlic quinoa
Spicy garlic quinoa is simple and romantic, perfect to serve with just about any meal. Just cook the quinoa and add your own special sauce. Omit the pepper flakes to keep things calm, but still flavorful for kids.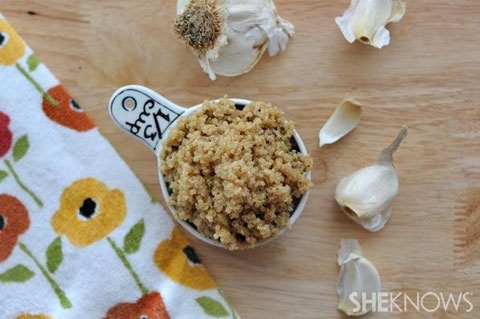 Spicy garlic quinoa
Serves 4-6
Ingredients:
2 tablespoons olive oil
4 cloves garlic, minced finely
1/2 teaspoon red pepper flakes
1 cup quinoa, rinsed
2 cups chicken or vegetable stock
Directions:
Heat a 2-quart pot over medium heat.
Add the oil, garlic and pepper flakes and cook until the garlic just starts to brown slightly.
Add the quinoa and stir everything together.
Add the stock, a pinch of salt, and stir to combine.
Bring the mixture to a boil, then reduce heat, cover and cook for about 15 to 20 minutes until the quinoa is cooked through and the liquid has evaporated.
Remove from the heat and allow to stand, covered, for about 5 minutes.
Fluff with a fork and serve hot.
More classic quinoa recipes
Quinoa veggie fried rice
Quinoa peanut butter banana bars
Gluten-free quinoa stuffing