Easter egg chocolate pancakes
Leftover Easter candy is almost as bad as leftover Halloween candy. Every Monday after Easter is always the same. I wake up with the intent to start my week off healthy with a power smoothie and end up eating 800 calories' worth of Cadbury Eggs before 9 a.m. Not this year, friends. Instead I'm putting candy to good use with these chocolate lovers pancakes.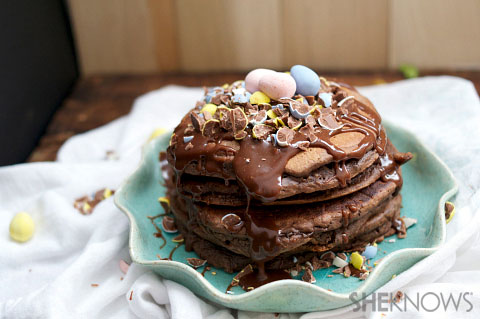 Instead of bingeing on the candy, I'm putting it on top of luscious kid-friendly pancakes. These make a perfect weekend breakfast treat. Or, if you're feeling extra nice (and/or your kids won't get dressed for the school bus and you need a way to bribe them), these make great Monday morning breakfasts too.
Double chocolate candy pancakes
Serves about 8
Ingredients:
3/4 cup all-purpose flour
2-1/2 tablespoons unsweetened cocoa powder
3 tablespoons brown sugar
3/4 teaspoon baking powder
1/8 teaspoon baking soda
1 large egg, room temperature
1-1/2 tablespoons unsweetened applesauce
1/3 cup + 2 tablespoons light cream
For the sauce:
1/4 cup heavy whipping cream
2-1/2 ounces dark chocolate
1/2 teaspoon vanilla
1/4 cup chopped Mini Cadbury Eggs
Directions: 
In a large bowl, whisk the flour, powder, sugar, baking powder and baking soda together. Add the egg, applesauce and light cream and stir to combine.
Spray a skillet with nonstick cooking spray. Scoop the pancake mixture, 1/4 cup at a time, onto the hot skillet and cook until the batter starts to bubble (about 4 minutes). Flip and cook another 4 to 5 minutes.
To make the sauce, melt the chocolate in the microwave for about 60 seconds, stirring after 30. Whisk the chocolate with the heavy cream and vanilla.
Pour the sauce over the pancakes and garnish with chopped Cadbury Eggs.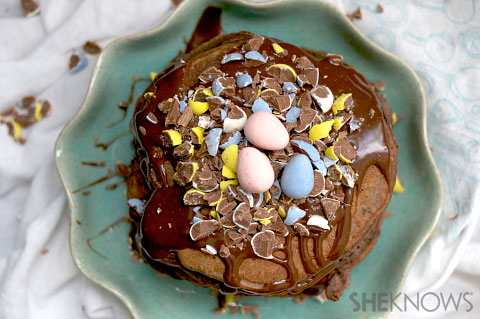 More pancake recipes
5 French toast and pancake recipes
Bacon-stuffed pancake dippers
Not your ordinary pancake recipes