Super healthy no-cook steel cut oats
You'll love this no-fuss alternative to oatmeal. It's incredibly easy to make, no cooking involved. I like using healthy almond milk for the nutty flavor, but regular milk works great as well.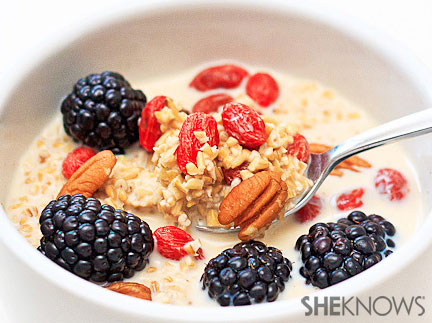 An incredibly healthy breakfast idea ready by the time you get up.
Super healthy no-cook steel cut oats
Makes 2-4 servings
Ingredients:
1/2 cup steel-cut oats
1 cup almond milk
2 teaspoons maple syrup
1 handful goji berries or raisins
Dash of cinnamon
Fresh berries and nuts, for topping
Directions:
Mix together all ingredients except toppings. Refrigerate in a covered bowl overnight to soften the oats.
Eat cold or at room temperature and top with fresh berries and nuts.
More healthy recipes
Sweet potatoes with balsamic maple glaze recipe
Harvest glazed carrots recipe
Roasted vegetables recipe