Easter-colored deviled eggs
These colorful deviled eggs prove you can't judge an egg by its shell.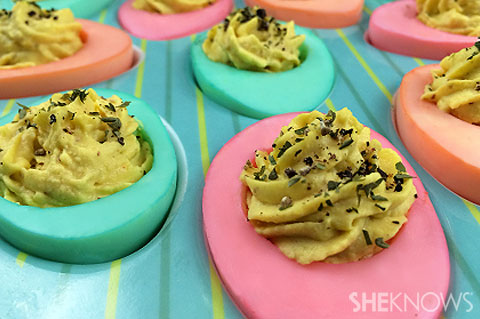 Easter colors are a reminder that spring has sprung and the bleak winter is behind us. But no matter how beautiful your Easter eggs turn out, they're all still plain Jane on the inside… until now. These Easter-colored deviled eggs take only a few minutes longer than your favorite deviled egg recipe, but will wow your family and friends. And don't worry about giving up your favorite recipe. No matter how you dress up those previously lifeless whites, they'll look as good as they taste.
Easter-colored deviled eggs recipe
Serves 6-8
Ingredients:
12 eggs, hard-boiled and peeled
Food coloring
1 teaspoon white vinegar for each food color
1 cup cold water for each food color
Your favorite deviled egg recipe and ingredients
Fresh-cracked black pepper (optional)
Dried parsley (optional)
Directions:
Cut the peeled eggs in half lengthwise and use a spoon to gently scoop the yolks into a bowl. Gently rinse the whites in cool water to ensure you've removed all of the thin membrane that forms between the white and the shell and that all the yolk has been removed. (Both will cause flaws in the dyeing process, including dark spots or white spots where the membrane protected the white from dyeing then peeled off.) Set the whites in a medium bowl while you prepare your colors.
To prepare your colors, pour 1 cup of cold water into a large mug or small bowl for every color you'd like to use, and add 1 teaspoon of vinegar to each. Then add the food coloring. You only need about 5 to 10 drops of food coloring for each color. Combine them using the ratios indicated on the back of your food coloring box. We used 5 drops of red to make pink, 3 drops of red and 5 drops of yellow to make orange and 4 drops of blue and 1 drop of green to make turquoise.
Drop the egg whites into the mug or bowl. You can add as many as 3 at a time, but don't overfill it. It makes it hard to remove the eggs later. Keep them in for 5 to 10 minutes (or more) until they reach the desired color. Move the finished (now non-) whites to a paper towel-lined plate to drain, hole-side down. Then add more whites to the colors until they're all done. Make sure you keep your colorings near your draining plate so you can compare colors and take the ones you do later to the first ones so they all come out the same color. The longer they're in, the more vibrant and rich the color.
While your whites are draining, use the yolks to prepare your filling according to your favorite recipe.
Scoop a bit of your filling into each of your whites. Many recipes call for garnishing deviled eggs with paprika, but we think that can dull the bright colors of Easter your deviled eggs are now sporting, so we recommend a little fresh-cracked black pepper and some parsley.
More Easter recipes
Texas-style eggs Benedict
Brunch burger hollandaise
Slice-and-bake oatmeal and jelly bean cookies