Pop-up chicks
Peeps, whether you love 'em or hate 'em, they are an Easter institution. These fluffy sugarcoated little delights make great snacks for Easter baskets and hockey pucks when left out too long. However, they work best in these adorable pop-up cupcakes.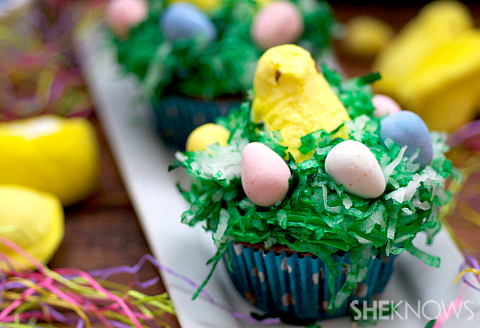 These cute little Easter pop-up cupcakes are fun not only for kids, but for adults as well. I mean, nothing cures a case of the Mondays quite like one of these adorable little cupcakes.
Pop-up chick cupcakes
Serves about 8
Ingredients: 
1 box chocolate cake mix
1 cup water
1/2 cup vegetable oil
3 large eggs
1 batch vanilla buttercream
Green food dye
About 2-3 cups Cadbury Mini Eggs
2 cups shredded coconut
1 box Peeps chicks
Directions: 
Preheat oven to 350 degrees F. Line a muffin tin with paper liners.
In a large bowl, whisk the chocolate cake mix, water, vegetable oil and eggs. Beat until mixture is smooth and no longer clumpy. Fill each liner about 3/4 the way full. Bake for about 18 to 22 minutes, or until a toothpick inserted in the middle comes out clean.
In a bowl, whisk the buttercream and a few drops of green food dye. Mix until it's a pretty green color. In another bowl, add a few drops of green food dye to the shredded coconut and mix with a fork to coat the flakes evenly with color.
Let cool completely. Once cooled, frost the cupcakes with green frosting. Add a few sprinkles of colored coconut.
Cut a small hole into the center of the frosted cupcakes and place a Peeps chick inside of it. Add a few mini Cadbury Eggs and serve.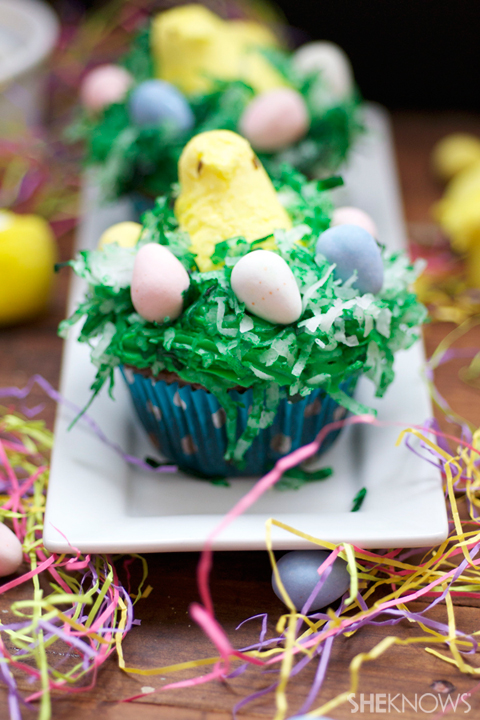 More Easter recipes
Turn deviled eggs into adorable hatching chicks
3 Healthy Easter desserts
Easter party recipes for kids