Slice-and-bake oatmeal and jelly bean cookies
Candy shell-covered chocolate cookies are so last decade. Incorporate the classic jelly bean into sweet and soft oatmeal cookies you can make ahead and slice and bake as needed.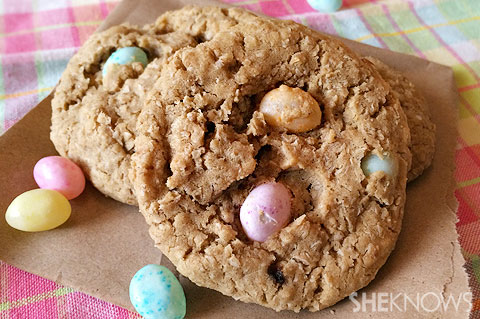 These slice-and-bake oatmeal cookies are perfect for Easter, but you probably won't stop making them all year. The key to making these tasty treats come out the way you want them is choosing the perfect jelly bean for you. Jelly beans vary in size, flavor and even shell thickness and center gooeyness.
The smaller jelly beans may make it easier to cut your dough, but you won't get as many good bites in the center of jelly beans (which is amazing when they're fresh from the oven). Softer-shelled jelly beans will also make the dough easier to cut through, but they'll melt and may not be as pretty unless you're really careful about choosing colors that go well together.
The harder-shelled jelly beans and larger jelly beans may make your dough crack or fall apart a bit when you cut in, so you'll have to reshape them a bit as you put them on the cookie sheet, but in my opinion, it's worth the extra effort for the prettier cookies and the sensation of post-molten jelly bean center as you bite through one. You can also add more or fewer jelly beans depending on your tastes. (I usually go for the full monty.)
Slice-and-bake oatmeal and jelly bean cookies recipe
Yields 24
Ingredients:
1 cup vegetable shortening (room temperature)
1 cup sugar
1 cup dark brown sugar, packed
2 eggs, lightly beaten
1 teaspoon real vanilla extract
1-1/2 cups all-purpose flour
1 teaspoon baking soda
1/2 teaspoon salt
3 cups rolled oats
3/4-1 cup jelly beans
Directions: 
In a stand mixer with the beater attachment (or in a large bowl with a hand mixer), cream together the shortening, sugar and brown sugar.
Add the eggs and vanilla and beat until well-combined.
In a separate bowl, whisk together the flour, baking soda and salt, then slowly combine it into the wet ingredients in your stand mixer. This dough may be a bit stiffer than, say, chocolate chip cookies, which is fine. Now mix in the oats and jelly beans.
Divide the dough into 4 equal sections and roll it into 4 rolls. I find it's helpful after an initial hand-roll to wrap it in plastic wrap and fit it into paper towel tubes to make sure the rolls are uniform. You can leave them in the paper towel rolls in the fridge. Chill them for at least 4 hours (preferably overnight). To keep them longer, you can also put them in the freezer, but the jelly beans will freeze, making it a bit harder to cut through them.
When you're ready to have cookies, preheat the oven to 350 degrees F and slice 1/4- to 1/2-inch slabs off the rolls (as many as you want to bake). If they fall apart a bit, which certain jelly beans will do as discussed above, just use your hands to squish them back together in a disc-like shape.
Place them on an ungreased cookie sheet at least 2 inches apart and bake them for 10 to 12 minutes, until they're set, but still a bit soft in the middle. As with most cookies, they'll look just underdone.
More cookie recipes
Cranberry and white-chocolate cookies recipe
Orange-ginger cookie dough
Gooey Baileys Irish buttercream sandwich cookies