Honey barbecue chicken hand pies
Flaky, buttery puff pastry squares are filled with finely shredded chicken, a sweet honey barbecue sauce and baked to a perfect golden brown color.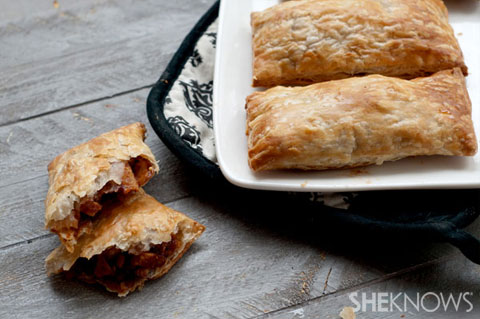 Everyone loves pie and almost everyone probably agrees they enjoy barbecue chicken just as much. Here I combined these two loves into one delicious idea. Using puff pastry creates a super light and flaky crust and the sweet barbecue chicken makes the perfect filling without being too heavy. These are great for a light dinner, after-school snacks or even for a party or potluck. If you are vegetarian, try replacing the chicken with tofu, tempeh or your favorite faux meat such as Beyond Meat.
Honey barbecue chicken hand pies recipe
Yields 8 servings
Ingredients:
2 sheets puff pastry, thawed
1-1/2 cups very finely shredded or diced rotisserie chicken breast
1 cup bottled or homemade honey barbecue sauce
1 cup shredded cheese (optional)
Directions:
Preheat oven to 375 degrees F and line a baking sheet with parchment paper.
Roll out the puff pastry dough on a floured surface. Cut each sheet of pastry into 4 squares making a total of 8 pastry squares.
In a bowl, combine the chicken and the barbecue sauce mixing well. Divide the mixture between each of the pastry squares placing a heaping spoonful on 1 side of the pastry square (you need to leave room to fold the dough).
Top each pie with cheese and fold the dough over the top of the chicken. Using your fingers or a fork, gently press the edges of the pastry to create a seal.
Transfer the pastries to the baking sheet and bake for 15 minutes or until the tops of the pies are golden brown in color.
Remove from oven and allow to cool slightly before serving.
More puff pastry recipe ideas
Puff pastry pot pie sliders
Autumn baked Brie wrapped in puff pastry
Greek Islands puff pastry