Tie-dyed Easter bread eggs
Want to really surprise your kids this Easter with a fabulous brunch? Forget regular white bread or boring wheat pancakes, and serve up a stack of French toast with this beautiful tie-dyed Easter egg-shaped bread. Plus, how cute would some finger sandwiches be on this rainbow bread?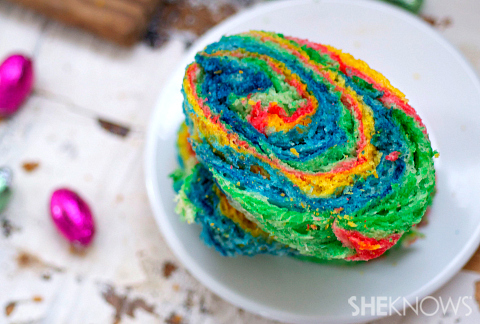 This is easily the prettiest bread we've ever made, and I'll be honest, it's probably the only bread I'll make moving forward. It's not just perfect alongside your dipped and dyed eggs, either. This bread is sure to brighten up even your worst of days.
Tie-dyed Easter bread eggs
Bread recipe slightly adapted from Tablespoon
Yields about 10 eggs
Ingredients:
1 cup milk
1 large egg yolk
3-1/2-4 cups all-purpose flour
2 tablespoons white sugar
1 package active dry yeast
2-1/2 tablespoons melted butter
Red, yellow, green and blue food coloring
Egg cookie cutter
Directions: 
Preheat oven to 200 degrees F. Once hot, turn off the oven.
Meanwhile, heat the milk and egg yolk together in a bowl until warm (about 110 degrees F). Pour the milk mixture into a bowl of a stand mixer. Add the yeast, sugar and 1-1/2 tablespoons of butter and let sit for about 10 minutes, or until it bubbles up. Stir in the sugar and flour, 1/2 cup at a time, until dough is soft and no longer sticks to the side of the bowl (about 5 minutes).
Remove from the bowl and knead slightly a few minutes longer until very smooth and elastic. Lightly grease four medium-size bowls. Separate the dough into the bowls and cover with greased Saran wrap. Place on a cookie sheet and into the warmed oven. Let rise for about an hour, or until doubled in size.
Remove the Saran wrap on each bowl. Add a few drops of red, blue, green and yellow dye to each of the bowls (so they are each 1 solid color) and knead the color thoroughly into the dough. You may want to move the colored dough to a plastic cutting board to really get the color deep into the dough. This takes about 4 to 5 minutes. Repeat until all of your 4 doughs are deeply colored.
Place back into the greased bowl and cover with another sheet of greased Saran wrap. Place in the oven and let rise another 60 minutes, or until doubled.
Remove the dough from the bowls, 1 at a time, and place on a floured surface. Roll out to about 1/4-inch thickness. Stack the rolled out colors on top of each other, with the yellow on the bottom.
Roll the dough up (like a jellyroll) and place, seam-side down, in a greased loaf pan. Cover with Saran wrap and place in a warm spot to double in size for about an hour.
Once doubled, remove the Saran wrap. Brush the remaining 1 tablespoon of butter over the loaf. Preheat oven to 375 degrees F.
Bake the bread for about 30 minutes, or until a toothpick inserted in the middle comes out clean. Let cool for about 5 minutes in the pan and then remove. Let cool another 10 minutes.
Slice the bread into 8 to 10 even slices. Using the egg cookie cutter, stamp out egg shapes. Discard the crusts or save for something later.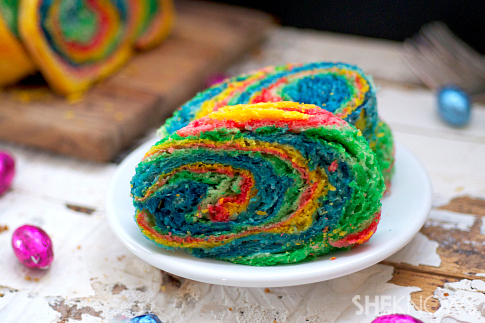 More Easter recipes
3 Easter candy martini recipes
Leftover Easter candy recipe
10 Recipes for an Easter potluck